November 4, 2016
Happy Friday! Just a reminder that clocks go back one hour this weekend…and what better way to enjoy that hour than by looking through all the awesomeness from last week in our Hawk Squawk: November 4th.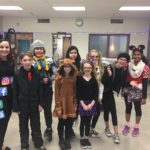 Halloween: It feels like forever ago, but this week was Halloween! And on Monday, our Skyhawks got into the spirit by dressing up in a variety of different costumes! We saw everything from Donald Trump to ninjas to Christmas trees. And then in the afternoon, students
enjoyed a variety of different activities including a dance, games or a Halloween movie. Huge thanks to all our staff, especially Mr Brandolini and Ms McArthur for organizing the day's events.
IFA Heads To The VSO: Each year, one of the highlights for our students in the Integrated Fine Arts program is their field trip to see the Vancouver Symphony Orchestra. It is always such a great opportunity for our students to see what the different art areas can look like at the professional level. And for many of our students, the opportunity to go to the symphony downtown is rare so we are excited they get the chance to go. This year's theme was "wall-to-wall percussion" so as you can imagine, it was a ton of fun.
Skyhawks Go From Me To We: Every year the founding brothers of Free The Children hold an
event in Vancouver where they bring together 20,000 student leaders from around the province to participate in WE Day. Through inspiring speakers, video clips and popular musical acts, the message of coming together to change the world for the better is shared with
everyone. This year we had 18 Skyhawks attend and they had an amazing time! They all left feeling inspired and empowered to make a difference in our school and local community. Huge thanks to Ms Cooper and Ms McArther for organizing this event.
Lacroix Turns Back Time: The grade 8s have been working on some
powerful, integrated units of study and this past week was no exception. The students in Ms Lacroix's class have been learning about different cultures and recently they turned their classroom into a museum featuring exhibits about the Franks, Celtics, Anglo-Saxons
and the Vikings. The students had great information, models and posters as they took time to learn from each other about these fascinating cultures. Another example to connected, authentic learning for our students.
Shared Learning At HDSMS: On Wednesday and Thursday students were dismissed an hour
early to make way for parent-teacher interviews/student-led conferences. The connection between school and home is so vital to student success and this formal engagement is a great time to share the learning successes from the first term so far and set goals prior to
report cards coming out in early December. Thanks to all the parents who made time to come out and share in the learning of our Skyhawks.