November 18, 2016
Hope you all had a great week! Was another awesome one at HD Stafford Middle School. Here is the Hawk Squawk: November 18th … please be sure to share with your family and friends.
Learning Get Dirty With Grade Sevens: The students in Ms McArthur's grade 7 pod have been learning about archaeology in their integrated Social Studies and Science unit. And while studying from the textbook and in class is great, the students had the opportunity to participate in a mock dig.
Ms McArthur turned our long jump pit into a dig site giving students the opportunity to practice authentic skills and find artifacts of their own. They had a blast and created some deeper and memorable learning.
Local Creek Becomes Classroom: We are so blessed to have so many learning opportunities right in our own backyard. And this past week, several of our classes took advantage of the annual salmon spawning that occurs in the Nicomekl creek to the west of our school. Students got
a first hand look at this part of the life cycle of the local fish, creating a powerful, authentic learning opportunity.
Marketing Lessons:  Ms Ashcroft's class had a special visitor on Friday. Deanna Nicola, who is the marketing manager for Papa Murphy's Pizza, paid a visit. During her time with them she taught the
education required to work in marketing, the various avenues a marketing career can have, target audiences, and the importance of understanding your own values before believing a marketing campaign. Deanna gave a wonderful presentation filled with pictures, video and examples of her own work that she does for Papa Murphy's. It is such a great connection for our students to the possibilities beyond school.
Skyhawks Advance In Playoffs: This past week saw the beginning of the Fraser Valley
football playoff season. Our team took on Heritage Park in the opening round and played a solid game. Their offence put up 48 points on the back of a strong running game while our defence held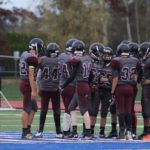 the opposition to 6! You can check out some excellent pictures from the game by clicking here. Next up is Seaquam at McLeod Athletic Park on Monday. Good luck Coach Safiq and Skyhawks players.
Music Video Spoofs: The grade 8 students have been doing a variety of learning activities based on the novel The Hobbit. One of the activities Ms Welsh has her students doing is to create original music videos using the novel as the theme. And some students even went to
the next level by incorporating the "green screen" technology to make their videos even more creative. Can't wait to see the final results.