April 1, 2017
What a great week! It didn't take long at all to get back into the swing of things after our Spring Break. Lots to celebrate so without further adieu, here is the Hawk Squawk: March 31st.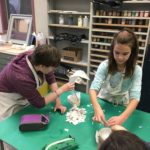 Abstract Sculptures Inspired By Henrey Moore: We are so lucky to have a staff so talented and passionate about different things. That always transfers to great learning for our students. Mr Sandquist is a wonderful artist who works with our students to go beyond simple techniques to discover their own talents and passions. This past
week, students worked on original abstract sculptures inspired by artist Henrey Moore. Student are creating works similar to his bronze sculptures seen around the world. Can't wait to see the final products.
Grade 8s Resurrect The Album Cover: Those of us old enough to remember vinyl albums the first time around have always appreciated the art of the "album cover." Whether it was the Rolling Stones, Metallica or Boston, there was something about studying the intricacies of what they decided to put on the cover. Ms Welsh had some of our grade students look through old album
covers and then come up wit their own original design. It was really interesting to watch them put such thought into what message they wanted their album to have say. Looking forward to checking out the final products.
Smells Like Teen Spirit: On Friday night, our wonderful PAC organized a dance for our students. The theme was NEON and it was very well received by the kids. There was plenty of games and prizes, with of course lots of dancing! A huge thanks to all the amazing staff and parents who were here to set up,
chaperone and clean up. We are lucky to have such an amazing sense of community! Check out more photos on the HDSMS PAC Facebook Page.
Grid Art: Our grade six students in Ms Passaglia and Mrs Chapman's class have been working on a great project that combines Math and Art. They are taking small pictures and placing a transparent grid sheet on top. They are then recreating that grid on a larger piece of paper, ensuring the proportion remains the same. They are then drawing the picture in a larger form, focussing on each box one by one. The final products are a result of great patience and precise Math. The students are enjoying much success.
Regular Rugby Season Kicks Off: This past week both our girls and boys rugby teams had their league season openers. This awesome athletic opportunity is popular here at HD Stafford Middle, with many students excited to get out on the fied. Our boys defeated WA Fraser Middle while our girls lost a very close game to cross town rival, Yorkson Creek. They will continue to develop over the season as we prepare for another deep run in the Fraser Valley Playoff.