January 22, 2016
Has been another amazing week at HD Stafford Middle School. We are so lucky to have such a passionate staff and students whose commitment to learning is second to none. We have lots to celebrate this week so here is our Hawk Squawk: January 22nd. Please be sure to share with your family and friends.
Getting Microscopic In The Science Lab: One of the awesome learning spaces we have here at HD Stafford Middle School is our Science Lab. Students have access to a fully working science lab and are therefore able to conduct high level science experiements. This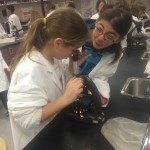 past week, Mr Bedard took his students down to do some work as part of their unit on cells. The students spent time comparing plant and animal cells using a compound microscope, specifically onion skin cells and human cheek cells. They practiced forming a hypothesis on the differences, showing their results and formulating conclusions. Amazing hands-on learning for students.
TTO2 Keeps HDSMS Kids Safe: This past week, we had two presenters from the Children of the Street Society come speak with our grade 6 students about staying safe with regards to sexual exploitation and human trafficking. This amazing organization shared the warning signs that exploiters use as well as how to help peers they feel may be vulnerable. And given that the average age that a child is exploited is 12 – 14, this presentation is very timely. A huge thank you to our counsellor, Mr Kemp, or arranging this important learning for our students.
The Power of Story Telling: This past week, we were excited to have Full Circle, a Vancouver
based Aboriginal Performance Theatre Company present to our students. Students were exposed to traditional storytelling by taking the students from the past to the present, using humour and laughter as a healing tool. Stories told will had strong social/ emotional learning content, but some of them are just plain funny. It was a great learning event for our entire community.
Band Is Back: We are very excited to have band back at HD Stafford Middle School. Mrs Thorpe from Langley Secondary School has started a beginner band program at lunch for our students wanting to learn to play an instrument. We have had a great turn out and are still
welcoming students. The energy in the room is amazing and the sounds coming out of the instruments are getting better and better. This is a wonderful start to what we hope will be an even more extensive program.
Breakfast Is Ready: For some of our students with special needs, a focus on important life skills is what learning is focussed on. And what is a more important life skill than knowing how to make your own food. So this past week, as part of their unit on healthy eating, the student's in Mrs Gollner's class learned how to
make "banana popsicles." They had a great time creating these treats and an even better time eating them. I know their families will be asking for samples for sure.