January 19, 2018
Hopefully everyone has had a great couple weeks after the break settling back into the routine of school. We have been moving along wonderfully at HD Stafford Middle! Just a quick note, the format of the Hawk Squawk will be changing slightly in 2018. We will send it out every second Friday. However, we will continue to celebrate the amazing learning and community of our school. So without further adieu, here is the Hawk Squawk: January 18th.
New Year, New You: The students in Grade 6 Red House spent some time over the first couple weeks back thinking about meaningful New Year's Resolutions. What was cool is not only did they come up with one personal goal for the next 12 months but also thought about their surrounding community. They then created these artistic representation of their goals.
Waste Warriors: One of the goals at HD Stafford over the past couple years is to really have our
students take pride and accountability over our school grounds and surrounding community. It is no secret that keeping trash off the ground can be an uphill battle. That's why we love that our OACES students have taken ownership over some of this. These waste warrior regularly get out
and clean up our field, tennis courts, playground and even the surrounding trails. We look forward to even more of our students ensuring HD Stafford is a clean learning environment.
Battle of the Bands: Okay, not so much a battle as an awesome opportunity to collaborate with
Langley Secondary. This past week, Ms Thorpe brought her secondary school band over to our school so the could play and learn with Mrs Mills and our school band. It was not only great to see some of our ex-Skyhawks, but clearly the students had a great time learning from each other and making music together. This is a connection we hope we can continue moving forward.
Write Like An Egyptian: The student in Mrs Miller's class took their own spin on the classic Bangles song "Walk Like An Egyptian" as part of their current Social Studies unit on Ancient Egypt. They made their own version of papyrus paper using the ancient technique. Then the student wrote
their names after practicing and deciphering hieroglyphics. The final results were amazing.
Taco Tuesday In Access: We are always so proud of how our ACCESS students are integrated into our school culture while they are learning valuable life skills. This past week, Mrs Fontaine was in with our ACCESS
students teaching cooking skills. The students made delicious tacos! Then of course, they got to eat the final product! Was a ton of fun and a great learning experience for our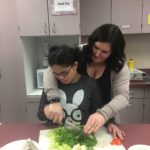 students.
Space Coding: In the past couple weeks, the grade 6 students in Mrs Smith's class have been learning how to code. Specifically, they are
learning how to add colours to photographs. As part of their Space Science unit, they coded their own exploding starts. In the near future, the students are taking their skills to one of our feeder schools, Nicomekl, to teach the younger students how to do their own coding.
Print-Making in Blue Seven: Div 7-2 did an introductory lesson on print
making. Students got to explore new art mediums as they carved into styrofoam, rolled paint and pressed out their prints. While they kept their designs simple today, it was a valuable lesson on how the different levels
of relief on the styrofoam created different contrasts of image development. Was a great artistic activity for all the kids.