February 2, 2018
What an amazing two weeks it has been! We really are a part of an amazing learning community at HD Stafford Middle School. The students have been engaged in great activities both within the classroom and beyond! Here is the Hawk Squawk: February 3rd. Please feel free to share with your family and friends.
Taste of LSS: Last week, the tradition of Taste of LSS continued! Our grade 8 students has the opportunity to spend the morning checking out the next stage of their academic journey at Langley Secondary. They enjoyed a few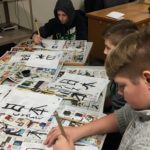 different sessions that exposed them to the great learning opportunities that await them in grade nine. This include Visual, Science, PE and Tech Shops, to name a few. Then they all came back to the gym for some fun games followed by a pizza lunch. It was a great day for our Skyhawks, soon to be Saints!
Sharing Our Learning With Nicomekl: Over the past two weeks, the students in Mrs Smith's Red House Grade 6 class headed out in the afternoon to connect with Nicomekl, one of our feeder schools. They buddied up with a grade 3/4 class and shared some skills on the iPads.
They showed the younger students how to use an app called Explain Everything which allows people to demonstrate learning through writing, pictures, video and audio recording. It was such amazing leadership for our students and created a great sense of community!
Dense Learning: The students in Gold House Grade 7 are learning about density. In the past couple weeks, they have been using lava lamps to see how density works in different liquids. They also spent time in the Science Lab learning about how to measure the volume of gas. There is such value in this kind of hands-on learning for middle school students.
Here's Looking At You: Mr Briscoe's Division 7-7 class were working on self portraits using
enlarged photos this past week. They took a picture of themselves and then used carbon paper  to transfer the main lines onto the larger paper. They are only part way through the process as next they will add colour and extra detail. Can't wait to see the final product.
A Measure of Success: Blue House Grade 7 have been focusing on appropriate use of SI units (International system of units). They are using graduated cylinder to measure and record volume and centograms to measure and record mass. Next they'll learn how to convert those units to calculate the density of objects.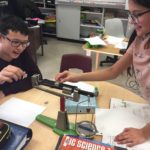 What a great Math/Science combo of skills!
Illuminated Art: The students in Mr. Goulet's Gold House Grade 8 engaged in a wonderful learning activity that integrated Visual Arts and Social
Studies. They are learning about the middle ages and to bring that to life, they created illuminated letters that were popular during this era. The kids had a great time creating these works of art, all while immersing themselves in this historical time.
Tower Challenge: Mr Grill and Mr Brandolini's classes have student
teachers working with them every Thursday from UBC. Ms Paul and Ms Lidhran are starting to hone their crafts as teachers while engaging our students in powerful learning. Recently, they put the students into
collaborative teams and gave them a budget to purchase random supplies like tape, paper clips and paper. They had to stay within their budget while building the tallest possible free-standing structure within a given time period. It was amazing to see the kids working so well together, problem solving, compromising and have a great time! The future of teaching is very bright!