February 26, 2016
What an amazing week at HD Stafford Middle School. It was busy for sure but full of some powerful lessons, both within the classroom and beyond as well as some fun spirit activities. Here is the Hawk Squawk: February 26th. Please be sure to share with your family and friends.
BFG Has Amazing Run: This past week was amazing for our Fine Arts department. After months of hard work at rehearsals, the cast of The BFG took to the stage for an amazing run of shows. Each student completely stepped up with incredible performances at both the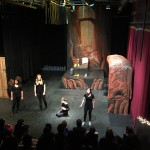 matinees and evening shows. The play was heartfelt with lots of laughs. A HUGE thanks to Ms McArthur for her leadership as the show's director as well as all the other staff who chipped in to make this show a success. Bravo!
Pink Day Celebrates Kindness and Empathy: On Wednesday was the national Pink Shirt Day. At HD Stafford Middle we are beginning to shift from the common term "anti-bullying" and instead focussing on the behaviours we WANT to see from our students. We began focussing on the notions of
KINDNESS and EMPATHY with the underlying theme being the need to get to know people and their differences. It is hard to "bully" someone you know. We are excited to extend this beyond just the one day as we continue to build a culture of care at our school.
Formal Friday Has HDSMS Looking Fine: Our latest spirit day was held this week … Formal Friday. And it was awesome to see students and staff don their finest clothes and dress up for the day. Many of the boys put on ties while the ladies had on
wonderful dresses. Such a fun way to create some positive spirit here at HD Stafford Middle School. Thanks to the leadership students for spear-heading this great activity.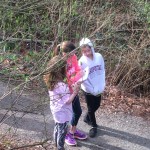 Sunny Classification For Mr Bedard's Class: Mr Bedard took advantage of the nice weather this week to expand on his Science unit by connecting the students to the outdoors and allowing them to experience biology classification first hand. The students are learning about how to classify living things using the universal classification
system of the 5 kingdoms. They even created their own classification system for stuff found around the school. So great when we can turn those "teachable moments" into memorable lessons.
Michael Bortolotto Shares His Story With HDSMS: On Tuesday, as a lead up to Pink Shirt Day, HD Stafford Middle was excited to welcome Michael Bortolotto to speak to our students about kindess and empathy. Michael Bortolotto, is a successful professional speaker who lives with Cerebral Palsy. For the past twenty-two years people of all ages have been inspired, motivated, educated, and entertained by his "CAN DO" attitude. By using real life experiences and examples, he encourages and
persuades his audience to rethink, what they may believe is impossible to realizing anything is possible by being determined, persistent, and focus on the end result. His presentation had a tremendous impact on the hearts and minds of our students.