February 19, 2016
It was a short week at HD Stafford Middle School but a full week of learning for staff and students alike. While students enjoyed a long weekend, the HDSMS staff spent the day at Professional Development activities. To round out the week, here is the Hawk Squawk: February 19th. Please be sure to share with your family and friends.
Bertrand Creek Clean Up: Thanks to WWF-Canada, Mr Grill's earned a grant to help our students connect with our environment and our ecosystems in a positive and rewarding way. And this past week, they began that journey by heading out to Aldergrove to embark in a river clean up project throughout Langley. The total weight of all the bags is
225 lbs, and the total recyclables was 17 lbs. This does not account for the extra construction materials, tires, and loose items we had, so for sure, much more weight there. What an awesome authentic learning experience for our students truly making our community a better place!
Making Music In Metal Work: Integrated learning is one of the powerful components of a successful middle school. And over the past few weeks, the students in Mr Mitchell's technology arts have been learning the skills of the trade while creating musical instruments. Specifically, they have been making flutes that are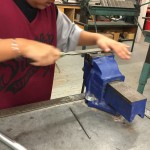 actually able to play notes. Again, it's another example of creating authentic learning experiences that cross subject lines…awesome!
HD Stafford Middle Staff Go To School: While students enjoyed the
beginning of a long weekend, the teachers and support staff from our school spent the day at a variety of amazing professional development activities. A large group attended Odyssey 2016 where they had the opportunity to learn from their colleagues on an array of educational topics. We even had some of our staff present to others. Another group attended a think tank on the direction of middle level athletics in our district. Awesome to have HDSMS representation as we blaze this trial. All in all, it was a great day!
Grade Eight Basketball Officially Comes To An End: This past week, our grade eight girls played a hard fought game in the first round of the Fraser Valley tournament ending their season. They enjoyed a great team wind-up dinner at Boston Pizza. The grade eight boys finished up a couple weeks ago after a successful season as well. We are lucky to have many students participating in our senior teams; another great opportunity of pursuing passion at middle school. Huge thanks to Mr Rowe, Mr Bedard and Mr Hendy for volunteering their time as coaches.
Pie Eating Contest Gets Messy At Lunch: HD Stafford Middle School is very proud of the
relationship it has with the City of Langley. We have worked collaboratively for the past few years to support our students with a variety of after school programs such as "After 3" and "Night Alive."
This past week, some representatives from the City of Langley held a pie eating contest at lunch. And as you can imagine, it was hugely popular … and very messy! And above all, it was a ton of fun! We look forward to an even great partnership with the city in the future.