February 12, 2016
Happy Friday! Hope everyone had a great week. We had lots going on at HD Stafford Middle School in the past four days. Here is our Hawk Squawk: February 12th … please be sure to share with your family and friends.
Global Play Day At HDSMS: There is a great trend sweeping over education … a return to the power of play when it comes to learning. And each year, there is Global Play Day where different classes dedicate part of their day to playing and learning with one another. At
HD Stafford Middle several classes participated in this awesome event, bringing in all kinds of board and card games. The adults enjoyed seeing that some of the classics are still popular with kids. Thanks to Mr. Grill for spreading the information about this great learning opportunity.
Sweet Valentine Treat: Mrs Sanderson gets to do some of the best learning with our students … and some of the tastiest. On Friday, students made Valentine's popcorn. And not in a microwave or hot air
popper but the old fashioned way – on a stove! Students had a great time learning how to do this while enjoying a tasty snack at the end.
Proposal at HDSMS: As many of you may have already heard, the grade 8s are well on their way with the Middle Ages cross grade role playing game. This past week, we saw Sir Ler propose to Lady Sierra
joining their two houses. In fact, the talk of joining powers, revolts and crusades has been quite entertaining for those student not familiar with what's going on. This gamification of content is a powerful way for students to immerse themselves into a subject creating the environment for powerful learning. Thanks to Mr Rowe, Mr Sandquist and Mrs Lacroix for creating this amazing opportunity for our students.
Twinsies: Our Leadership class had another fun spirit day for all our students…Twin Day. Staff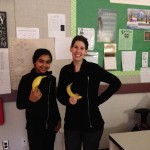 and students took the opportunity to dress like their friends and earn points for their house team. We even had a student surprise Ms Cooper by being her twin without any pre-planning. So great to have these fun opportunities to show our Skyhawk spirit.
Owning Our Learning: It was a special moment this past week in Mr. Jung's class. The students had been working on the importance of owning their learning experiences and really taking control over their commitment at school. They had worked towards engaging in what they needed as oppose to just doing what the teacher told them to do. And during a
few classes it was evident that they were understanding this concept as they chose to work through locker breaks, fully immersed in self directed Math lessons. What a powerful skill to have moving forward in school and in life.