December 2, 2016
Happy December! It really is hard to believe we are already in the last month of the calendar year. It was a busy week at HD Stafford Middle School with so much to celebrate. Here is the Hawk Squawk: December 2nd. Please be sure to share with your family and friends.
Volleyball Season Comes To A Close: This past week marked the end of another successful volleyball season for our Skyhawk athletes. We fielded 6 teams of boys and girls across all the grade levels. They enjoyed much success and had a blast. During the last few days, our teams participated in year-end "play days" competing against other
middle schools in Langley. Huge thank you to ALL the coaches (Mr. Sandquist, Mr Brandolini, Ms Hamilton, Mr Horrocks, Ms McArthur, Ms Passaglia, Ms Nider and Mr Murtland)
Math Makes Sense For Our Grade Eights: We are so lucky to have teachers who really push learning past the traditional textbook/paper and paper strategies. As part of their latest Math unit, Ms Elstak had her students get beyond their notebooks to create some other visual learning. Students could be seen in the halls busy making their own fraction anchor charts! They had to use what they
learned in class as well as research strategies for adding/subtracting, multiplying/dividing, and comparing fractions. The final results were spectacular.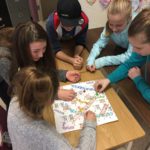 Game Play With Grade Sixes: As our newest Skyhawks continue to settle into their middle school years, one of the key skills we want them to learn is goal setting. And while there are lots of ways to teach that to younger students, getting them to create their own games is one powerful way. They were able to blend creativity with a solid demonstration of what they had learned. And
then they continued their experience by playing each others. What a great unit of study!
Multiple Senses For Maximum Learning: Research is clear that students during the middle years learn best when information and skills are presented to them in a multitude of ways. And this past week, Ms Coleman took that to new levels as her grade six students students studied the math concepts related to lowest common multiple and greatest common factor. They played an awesome game of jeopardy, with
questions specific to the concepts covered. They even performed a dance to help them remember! So important to tap into all parts of our brain when learning.
HDSMS Staff Learn More On Creating A Culture Of Care: On Tuesday afternoon, our students went home 75 minutes early so our ENTIRE staff could participate in a collaborative learning session. We were lucky to have Bal Dhillon and Laida Falsetto from Byrne Creek Community School in Burnaby with us to work on creating a culture of care for our students. They talked
about the importance of relationships with students and shared strategies on how to make them feel welcome and engaged. Staff participated in great discussions and left the meeting committing to do one thing the next day to help build care in our community.