April 8, 2016
Another beautiful Spring week here at HD Stafford Middle School. Lots of great things happening so here is the Hawk Squawk: April 8th. Please be sure to share with your family and friends.
Paper Doll: Students in Ms Johnson's grade 6 class have just finished up a project in regards to culture where students had to research a country and the traditional clothing worn. They then compared that to the fashion of today. Was very interesting for the students to get a glimpse into what other countries wear and the finished products were pretty cool.  
Mexican Exchange Students Enjoy Wild Field Trip: As we come to a close of our amazing
visitors from Mexico, the students and their HD Stafford Middle Canadian Ambassadors enjoyed an awesome field trip to Extreme Air
Park. They had a friendly international dodgeball competition and solidified the amazing friendships that have been forged over the past week. It was a great experience for our visitors as well as for our own students.
Outside French: The students in Ms Cooper's class took advantage of the beautiful weather
to present their French skits outside in the sun. The students shared their learning with one another in skits about "classroom object." Clearly the students were engaged in the learning, built even more confidence in another language and appreciated the opportunity to be outside.
A Fishy Situation In Mr Grill's Class: The students in Mr Grill's grade 7 class have really taken on the task of tackling some local environmental issues throughout the course of hte school year. With their LEPS grant as a springboard, They have already been out on field trips cleaning local creeks and this past week they were painting fish on drainage areas
to remind our community where the waste goes when/if they dump it in there. It is really the most powerful learning when it is authentic and directly connected to the community around us.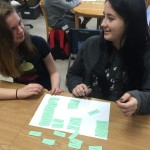 Long Learning With Short Stories: Ms Lacroix's class has been reading and examining the components of what makes a short story engaging and compelling for the reader. Students had to write their own short story that focused on internal conflict. Students were creating categories
for words associated with a short story. They then had to come up with an appropriate title. This is a great part of making our students even more powerful writers.