April 13, 2018
Happy Friday the 13th! Hope everyone is all settled back at school after Spring Break. The amazing learning and school culture picked up right where we left off. Here is the Hawk Squawk from the past couple weeks.
Skyhawks For Humboldt: As the nation mourns the tragedy that occurred in Humboldt last week, it also was a time where the true Canadian spirit of community came through. People all across the country wore jerseys on Thursday to show their support of those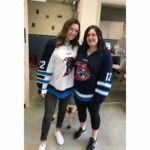 directly effected and HD Stafford Middle was a part of that unity. Students and staff wore their favourite jersey and took time to appreciate just how valuable life and those around us are.
An Eye For An Eye: Our grade 8 students participated in a right of passage in their educational journey. They made their way to the Science lab where they had the opportunity to dissect a sheep's eye. They spent time putting to reality, the diagrams they had studied in class. As you can
imagine, this was a great experience for our students and one they will not soon forget. It is a great example of the power of hands-on learning.
OACES Garden Work: This year, our newest exploration has been amazing. The Outdoor Aboriginal Community Environmental Studies classes have not only created amazing and unique learning opportunities for our students, but it has had a huge impact on our school grounds and culture. Classes are currently busy removing
evasive foliage from the areas around our school and will be planting blackberry bushes in the near future. This re-connection with the environment and ownership of nature is such a vital life skill.
ACCESS To Yoga: There is something zen about being able to participate in yoga activity which is why many of our classes use it as part of student self regulation and mindfulness. Regularly, our students in ACCESS go to the gym and work on their downward dog to help stretch their body and calm their mind. It has such a huge impact on the learning they are able to participate in for the rest of the day.
Art Hub For Kids: It is more and more rare these days where kids get a chance to just sit and
focus on directions while creating art. There is a great online resource, Art Hub, that gives all kids a chance to create art by following specific directions. And the best part is while they all draw the same thing, each is unique to the perspective of the artist. The final products are awesome and the pride of the kids was awesome.
STEM Ancient Egypt: The students in Ms Miller's class have been learning about Ancient Egypt through the lens of STEM (Science, Technology, Engineering and Math). These past couple weeks, they created a "kid sized" mummy that can stand on its own using only
newspapers, toilet paper, and packing tape! The level of design, collaboration and creativity was outstanding