September 9, 2016
Welcome back Skyhawks! What an eventful first week of school. It was so great to have our students back in the building. Each Friday we share out 5 success stories from Skyhawk Nation. Here is this week's Hawk Squawk. Please share with your family and friends.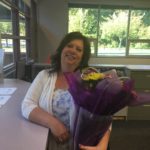 Good Luck Anne: This week was the last week for our amazing administrative assistant, Anne Power. Mrs Power has been at HD Stafford Middle School for the past three years and has been a very important part of the overall culture as well as the day to day operations. We are excited for her new opportunity as head secretary at Brookswood Secondary and wish her all the best. You will be missed.
WEB Leaders Welcome Newest Skyhawks: The transition to middle school can be a scary
on for our grade 6s. That's why we were so excited to introduce the WEB (Where Everyone Belongs) to our school. After being trained in the summer, our grade 8 WEB leaders welcomed our students on the first day with a set of fun activities that helped them connect with one
another, get comfortable in the school and begin to prepare to be successful at HD Stafford. The WEB leaders got the students to their homerooms and will continue to mentor them throughout the year. A huge thanks to Mrs Chapman, Miss Cooper and all our amazing WEB Leaders.
Learning Does Not Cease For Summer: We are so proud to have been able to offer TWO
summer learning sessions specifically for our students. Mrs Janzen, Mr Bedard, Ms MacDonald and Mr Piche ran a six week program for students based on the Survivor reality shows. Students learned a variety of strategies to ensure success in school and in life while have
a great time participating in games and recreation activities. Ms Hamilton and Mrs Gollner also ran a two week summer session for our newest Skyhawks, helping them transition and prepare for middle school. They covered some academics, organizational skills as well as hands on robotics, cooking and fine arts.
Building Bridges In Grade 8: There was some powerful hands on learning right off the hop. Division 3 & 4 did a STEM (Science, Technology, Engineering, Mathematics) challenge today. They got 7 pages of newspaper & two feet of scotch tape to make a 30cm long bridge that held a weight. The goal was to create a structure that
would hold the maximum amount of weight! The winner's bridge held over 35 lbs of books!!! Very impressive, not to mention the critical thinking, collaboration and creativity that was going on!
Explorations Begin: This past Thursday, students began their exploration rotations. This pillar of middle school philosophy gives students the opportunity to explore hands on learning in a variety of areas. Our grade 7s got right to work in the Woodshop, planning and starting a kazoo project.
We're already looking forward to the final concert.