September 16, 2016
Happy Friday! Hope you all have had a wonderful week. At HD Stafford Middle, we were in full stride when it came to meaningful, engaging learning. Check out some of successes in the Hawk Squawk: September 16th. And be sure to share with your family and friends.
May The Force Be With Our Grade Sixes: The grade 6 students in Miss Younger's class did their first Science experiment of the year. They built structures out of tooth picks, marshmallows and index cards then tested their strength with plastic bears. The day's record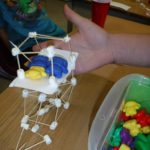 for most bears on a structure was 28! This was the introduction to their Forces, Motion and Newton's laws science unit. They discovered that forces affected their structures while enjoying some amazing hands-on learning.
Finding Our Creativity: The students in Mrs Yzerman's Fine Arts Exploration classes learned a valuable life lesson while doing a fun, engaging activity. After opening their minds to creativity through meditation, each student found a quiet space to create some art. The same directions were given to the entire class on what to draw. And yet, each student
brought their own unique perspective to those instructions, creativity a one-of-a-kind art piece. The connection was then made to the importance of bringing our own true self to all we do in life. A powerful message for our middle school students.
Peanut Butter Jelly Time: Following directions is an important skill for any student in middle school (or any walk of life for that matter). So what better way to practice following instuctions than with food. The students in our Access Program worked on following specific instructions while making peanut butter and jelly sandwiches. And of course, they got to eat the fruits of their labour, making the learning even more powerful.
Mr Kemp Visits Our Newest Skyhawks: This past week, our amazing counsellor, Mr Kemp
spend some introducing himself to our grade 6 classes. He did a few activities that allowed them to not only get to know the role of a counsellor in the middle school setting, but also get to know Mr. Kemp. We are so lucky to have this valuable resource in our school everyday.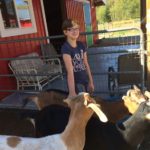 Skyhawks Go To The Farm: Ms Janzen has a wonderful community connection for the students in our school … The Fun Farm. OUr students get the opportunity to go to a local acreage and participate in hands on learning while helping the animals there. This past week, a few students went to take care of the ducks
and chickens. This is a shining example of authentic, real-world learning creating a true connected purpose for some of our most vulnerable students.