September 15, 2017
Happy Friday! What an awesome week!!! So much amazing learning and team building going on in all our classes. It was such a great sign of things to come this year. Here is the Hawk Squawk: September 15th. Don't hesitate to share with your family and friends.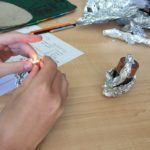 Electricity Flowing In Grade Seven Blue House: Divisions 7-1 and 7-2 launched their electricity unit with a challenge. Students were given a battery, a light bulb, two sheets of tinfoil and no instructions on how to light the bulb. They had to devise their own plan, and keep adjusting their plan until they got
the light to work. Was amazing to see students working collaboratively while thinking critically on how to solve this problem.
Tasty Treats In Foods Explo: Mrs Fontaine had the students getting right into this labs in Foods class this past week. After a demo from the teacher, students worked in their teams to make delicious smoothies and jello!!! The students really enjoyed the fruits of their labour.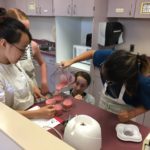 Cooperative Learning In Outdoor Ed Explo: one of the focuses of this exploration is to help our students understand not only the
power within themselves, but how much more impact they have when they work with those around them. This week students participated in a challenge where they had to work together to lower a long rod to the ground without letting it go or dropping it. Was amazing to see the communication and problem solving that occurred!
Dramatic Ecosystems: we have long said how lucky we are at HD Stafford to be surrounded by such wonderful natural phenomena. Ms Ashcroft and Ms
Passaglia recently took their Grade 7 Gold House students out to explore and learn the forest around us. They then created dramatic skits to represent their learning. What a great blending science and drama!
Nature Based Learning For ACCESS: Many of our classes took advantage
of the great weather this past week and lived their Learning outside. Our students in the ACCESS program were no different as they headed it to our community garden to learn about the plants that are out
there. They also helped out by doing a little watering and weeding. So important that our students connect learning with the world around them.