October 7, 2016
What an awesome week. Feels like HD Stafford Middle School is in full swing with activities, sports and learning happening all over the place. Lots to celebrate so here is our Hawk Squawk: October 7th. Please share with your family and friends.
HDSMS Run For Terry: We are very proud of our community's commitment to carrying on the
legacy that Terry Fox started so many years ago. With the simple goal of finding a cure for cancer, Terry Fox embarked on a Marathon of Hope that has inspired generations long past his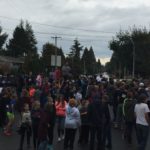 death. On Thursday, our students brought in toonies and loonies raising just under $1000.00 for this great cause. They ran in honour of Terry! Huge thanks to Mrs Lacroix and Mr Rowe for organizing this important event.
Staff Participate In Blanket Exercise: This afternoon while students were dismissed early, the entire HDSMS staff participated in a "blanket activity" led by Mrs Matthews and her Aboriginal Team. As we continue to embrace the Truth and Reconciliation process in our country, at our school we are working with staff and students to develop a deep understanding
of why this process is so vital in our national history. It was a powerful learning experience filled with a lot of self-reflection, valuable discussions and even a few tears. We look forward to bringing this activity into our classes for students to participate.
WEB Turkey Chase: On Friday morning, our grade sixes participated in one of their follow-up activities with their WEB leaders. An important part of the Where Everyone Belongs program is the social and academic follow up activities that occur throughout the year. With Thanksgiving right around the corner, WEB leaders dressed up as turkeys and participated in some fun
activities with their grade 6 WEB groups. It was very clear they were having a blast as they continue to connect with the important peer mentor in the school.
Cross Country Kicks Off: This past week, our small but fierce grade 6 & 7 cross country team had their first meet of the year out at Aldergrove Park. The students run the race through the beautiful forest backdrop against other schools across the district. We performed extremely
well with a few of our students already qualifying for the Championship race in a couple weeks. The next race is Wednesday, October 12th. Thanks to Ms. Elstak for coaching the team.
Grade 7s Give Directions: To prepare students for writing detailed procedures for their Science lab experiment, students were given a set of K'Nex and had build a simple form.  They then had to Create a set of instruction/procedures that others could follow to build their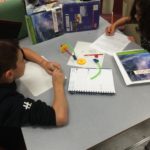 form without seeing it. Such a great, hands-on way to truly understand an important concept in Science.