October 6, 2017
A short week, but so full of learning and community. As we enter October, our school culture is so positive and students are engaged in purposeful, meaningful activities in the classroom.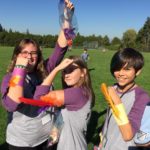 Grade 6 Turkey Trot: Our 2nd Annual Turkey Hunt was Thursday! Our WEB leaders dressed up as Turkeys and took off into the fields. The grade 6's enjoyed a fun afternoon of hunting down their turkeys and hauling them into the school in exchange for a yummy treat. Such a great
opportunity for our grade 6s to connect with their WEB mentors. Our WEB leaders wish all their grade 6's a fantastic thanksgiving weekend!
Electrifying in Division 7-1/7-2: Div 7-1 and 7-2 we're fortunate enough to have Mrs. Waddle from the Langley Centennial Museum come into their classes this week to engage students in a 2 hour long hands on workshop. Students were able to explore the properties of electricity, build circuits, light switches and explore the wonder of electromagnetism. It
was fantastic to see groups explore the 5 different challenges presented by Mrs. Waddle. There was nothing better than seeing the students reactions when they got their lights to turn on!
Digging Learning In Ms Cooper's Class: In class, as part of their introduction to the study of ancient civilizations, the students acted as archeologists. They investigated an assortment of artifacts that they imagined they had found in the hot climate of present day Iraq, somewhere between the Euphrates and the Tigris river. The students had to look closely at the items to try to figure out what they might be and
what they might reveal about their civilization of origin. It is always great to have our students immersed in authentic learning like this.
Collaborative Addition To Our Community Garden: We are proud of our sense of community at HD Stafford Middle. It is an on-going learning goal for us. This past week we connected with the Trades Two Program at Langley Secondary School to add benches to our growing community garden space. The students at the high school built benches and together with our O-ACES program we created cement
pads. Looking forward to having great places for people to sit and enjoy our garden.
Critters Invade Gold House: A true case of hands on learning in Ms Ashcroft and Ms Passaglia's class this past week as Mike's Critters came for a visit. He brought an array of different animals including a hedge hog, snake and lizard among others. He shared so much information about these amazing animals and let students touch and hold them. Students had a great time while learning a
ton.