October 20, 2017
Another awesome week at HD Stafford Middle School … amazing all the great learning and spirit we can fit into a four day week. Here is the Hawk Squawk: October 20th. Please feel free to share with your family and friends.
Soccer Season Begins: This past week signalled the start of our boys soccer season. The HD Stafford team took to the field on Monday against Langley Fine Arts during a torrential down pour. It was a very hard fought game with the visitors narrowly winning by a score of 2 – 1. Our boys demonstrated great skill and showed that their practices have been
paying off out on the field. Huge thanks to Coach Mr Bailie. All the best for a great season.
Animal Adaptations In Science Seven: One of our focuses at HD Stafford Middle School is making learning engaging and purposeful for our students. In Ms Ashcroft's class, students are learning about what adaptations animals make to survive in their environment. And of course, one of the best ways to do that is through hands on activities that
demonstrate how these changes actually work. The did things like put blubber (lard) on their hands to feel how certain sea creatures stay warm in the ocean. Memorable and powerful learning for all.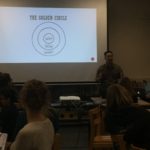 HDSMS Staff Go To School: While students enjoyed a long weekend, our entire staff were either attending or presenting at professional development events around the province. Several of our staff went to the Intermediate 'Super Conference' in Vancouver while others attended CPI (Crisis Prevention Institute) training right here at HD Stafford. We kicked the learning off on
Thursday where we focused on staff and student wellness as well as beginning discussions about the 'Profile of a Skyhawk.' It is such a benefit to our students when our staff have the time to focus on their own learning.
Sharing Our Medicine Bags: Last week we shared in our Hawk Squawk, the collaborative project our OACES (Outdoor Aboriginal, Community and Environmental Studies) explorations classes were doing with our ACCESS students in making traditional medicine bags. This week, the students headed outdoors to collect from the environment thing to put in their own
medicine bags and share with others. We are so lucky that our students have the opportunity to not only connect with our surrounding nature, but do it in a way that is authentic and re-connects us with our Aboriginal history.
Exploring The Art Of Elaine White-Brewer: The students in Ms Lyth's class are collaborating with the Langley Centennial Museum for a wonderful project based on artist Elaine White-Brewer. The students will be designing and creating mosaic tiles based on the them of diversity and inclusion. These tiles will then be brought together for benches that are outside the museum in Fort
Langley. It is great that students get to explore these important concepts and be a part of spreading that in our broader community. Can't wait to see the end results.