November 10, 2017
So much to celebrate this week. As we head into a four day weekend and honouring our veterans for Remembrance Day, take a moment to read through the Hawk Squawk: November 9th.
HDSMS Remembers: There are few, if any, times during the year when we come together as an entire school community more important than Remembrance Day. As more and more of our WWI, WWII, and Korean War veterans pass away, the need to ensure our youth remember what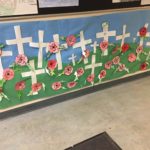 they were fighting for grows and grows. In our assembly today, students were reminded of the freedoms they enjoy and the responsibility that comes with those rights. Many gave the ultimate sacrifice so we could enjoy them. Thank you to Ms Ashcroft and Ms Passaglia for their work in putting this event together.
Fire Starting In O-ACES: As we wrap up our first rotation of explorations, the students in Ms Villeneuve's Outdoor Aboriginal Community and Environmental Studies class had a guest come in and teach them how to build a fire out in the woods. Calder Cheverie helped our students gather
materials from around them and then showed them the proper technique to start a fire. It was obviously a great learning experience for the kids and a skill they will be able to use for years to come.
Governor Race Hits Up In Division 6-8 & 6-9: The students in Mr Jung and Ms McArthur's class were put into political groups in a race to be the class governor. They had to create platforms on which they ran, posters and even gave campaign speeches. Students were able to ask questions of each other
as they dove into the political process first hand. We are anxiously awaiting the results at the polls 🙂
Children Of The Street Educate Our Youth: This past week we were thrilled to welcome back the organization Children of the Street. This youth focused group presented to our students the Taking Care of
Ourselves and Others educating us on what sexual exploitation is and more importantly, how to keep our students safe from it. Understanding that the average age the sexual exploitation starts is 12 years old, this was a timely presentation. Students learned the role social media can play in being taken advantage of as well as tips to keep themselves safe.
Lego Robotics Kicks Off: One of the things we can offer in the middle
school setting is opportunity for kids. This past week, our students had another one of those great learning opportunities start…Robotics Club. This awesome club use the Lego Mind Storm kits to solve coding
problems to get their lego creations through a variety of tasks. Students learn through collaboration to problem solve and think critically, all while having a fun time. We are looking forward to seeing them in competition later this year.