November 6, 2015
What a tremendous week at HD Stafford Middle School. So much amazing learning and
community spirit going on as we welcomed parents to the school for interim interviews this week. Here is our Hawk Squawk: November 6th celebrating success at our school. Please be sure to share with your family and friends.
1. Grade Sixes Get Busy With Kahoot: There are so many ways that technology can empower learning for our students. This past week, the students in Mrs. Chapman's classes used a great online/mobile tool called Kahoot to review for their upcoming Extreme Environment final
assessment. This technology allows the user to create questions and each participant can answer earning points. The friendly competition and engagement allowed students to gauge what areas they need to continue to study to prepare for the assessment. It's excellent when technology can be integrated into powerful learning.
2. Parent/Teacher Interviews: This past Wednesday and Thursday were the first term parent teacher interviews/student led conferences at HD Stafford Middle. While on-going communication between school and home is essential for student success, this formal opportunity to get together to discuss successes and areas of improvement is great.
 Parents, students and teachers were able to come together and share what is working well around a child's learning and set goals prior to report cards coming out next month. This, of course, gives our students the best chance to make changes to ensure success.
3. Trades Explorations For Some Of Our Aboriginal Students: The InSPIRE First Nations event held at Kwantlen First Nations Cultural Center provided students in grades 6 – 8 with an opportunity to experience a new perspective on skilled trades and technology careers while incorporating cultural aspects through hands on activities.  The students experienced woodworking (built a cedar
planter), metalwork (engraved nameplate and soldering copper wire), FortisBC (gas pipe cutting and fusing), horticulture with Kwantlen Polytechnic University (choosing a plant for their cedar planter) and informative interactive presentations from SkillsBC and WorksafeBC. Huge thanks to Mrs Matthews for organizing this amazing learning opportunity.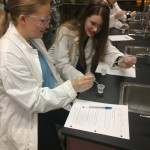 4. Grade 8 Science Lab: During the winter months, we all know that catching a virus is a reality of life. However, this past week, the grade 8 students in Ms Welsh's classes participated in a science experiment to learn first hand how easily germs can be spread. Using a variety of chemicals, the students went around and "shook hands" but adding two
drops of their liquid into other people's containers. At the beginning, only one container had the "virus" chemical, but they soon saw how quickly the virus spread. A great hands-on method of connecting learning to the world around us.
5. IFA Head to the Symphony: This past week the students in our Integrated Fine Arts program headed into Vancouver to see a performance by the Vancouver Symphony Orchestra. This year the them for the show was Hockey. The students
were treated to a high level of musical performance, making connections to their own learning here at HD Stafford Middle School. And of course, made some great memories.