November 27, 2015
It is so crazy to think we are less than a month away from Christmas Day! The learning has been at a fever pitch here at HD Stafford Middle School as staff and students prepare for first term report cards. Also plenty of extra curricular activities going and and lots of school spirit. Here is the Hawk Squawk: November 28th. Please be sure to share with your family and friends.
1. Scientific Balloon Races A Hit: The students in Mrs Chapman's grade 6 Science classes spilled out into the halls this past week to conduct some hands on experiments connected to their current unit on space. Their task was to investigate the following: 1) what size balloon provides the best thrust 2) where is the best place to put the cargo (weight
of astronauts and equipment- marbles in our case) to allow for best flight of a space vehicle. The students were energized by the task and learned some interesting things about what makes space travel possible and most efficient. So important to have learning connected and authentic in order to make powerful for students.
2. Things Get Electric In Explos: This past week, students in the technology arts rotation of explorations got to try their hand at electronics. Students were given the task of creating a simple circuit with resistors, switches and lights. The focus and problem solving skills were through the roof. And the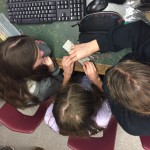 students were even able to connect their learning to "real-life" via things like how Christmas lights work. Who knows, maybe a future electrician was inspired this week!
3. Volleyball Play Day: This past week, our grade 6s participated in one of their play days at Langley Christian Middle School. A few teams played a round robin min tournament and our girls did AMAZING! They have already come so far in their skill development and it will be great watching them become even better volleyball players as they progress through HD
Stafford Middle School. A huge thanks to all the coaches who make these events possible.
4. The Hobbit Invades Grade Eight: The students in our grade 8 pod are starting their unit on the Hobbit! This popular book series has captivated students for many years. As a start
to the novel, students in Mrs Lacroix's class were examining the contrast between good and evil characters in the Hobbit and how Bilbo and company are striving to overcome obstacles placed in their way. There are many deep themes in this particular story, making for powerful dialogue and powerful learning.
5. Aboriginal Family Christmas Gathering: Last Friday night, HD Stafford Middle hosted the annual Langley School District Aboriginal Family Christmas Gathering! And as in year's past, it was a HUGE success. Support workers, teachers and administrators joined our local Aboriginal families for delicious food, performances and a small market to help kick off the Christmas season. We are very proud to be able to host this amazing event! A huge thank you to Mrs Matthews for all her hard work with our Aboriginal community.