November 25, 2016
What a great week! So much spirit and powerful learning at HD Stafford Middle School. Here is the Hawk Squawk: November 25th. Please be sure to share with your family and friends.
Staff v. Student Volleyball Game: One of the great traditions we have at HD Stafford Middle School is staff versus student games at the end of a sports season. And since volleyball has come to a close, it was time to celebrate with a game in front of the entire school. And while the students played very well, the skills of the staff prevailed. Thanks to all the athletes and to the coaches who gave up their time throughout the season.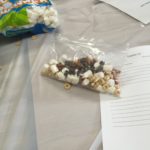 Grade Sixes Mix It Up: We are so very lucky at our school so have the opportunity to participate in a variety of hands on learning experiences, particularly in Science. And this past week, the students in Ms Younger's classes had the chance to explore the difference
between solutions and mixtures in a few different ways. They used common materials to create mixtures and solutions … some tastier than others.
Basketball Season Kicks Off: As volleyball comes to a close, basketball started up right away. Most teams have been running open
gyms and our grade 8 teams had their first exhibition games this past week. They travelled out to WA Fraser Middle School in Abbotsford to take on their cross district rivals. Both the boys and girls lost the games but showed great promise as they prepare to start the regular season! We are looking forward to a few great months of basketball at all our levels.
Mannequin Challenge In Community Room: We have developed such a wonderful culture and sense of family for those students who use our community room on a regular basis. Everyone down there works together to take care of the room! And this past week they took pause, literally, to have some fun. Social media has been taken over by people doing the "Mannequin Challenge" where you stay perfectly still for a period of time. The students did an awesome job not moving while recording. Check it out by clicking here! Even Ms Lacroix's Division 1 class got in on the action. Check theirs out by clicking here.
Christmas Kick-Off In Access: If the weather is any indication it's beginning to look a lot like Christmas. And if you swing by our Access Program, there is no doubt the festive season is in the air. Our Aboriginal Support Worker, Ms Matthews joined these students to
create some amazing beaded snowflakes! Students got to participate in some hands-on activity while learning about some aboriginal history. And these are going to make great Christmas decorations!