November 20, 2015
It has been another amazing week here at HD Stafford Middle. As the temperature plummeted, the learning really fired up! Students and staff were engaged in some amazing activities and a very fun spirit day as well. Here is the Hawk Squawk: November 30th. Please be sure to share with your family and friends.
1. Apple Pies From Home Arts: There is always a delicious aroma coming from our Home Arts classroom however this past week it was the best one yet. The students in Mrs Sanderson's class learned how to make home-made apple pie! And boy did it smell good. And the best part was they
tasted as good as they smelled. So if your child was in that class, go get some apples and some ice cream and get ready to enjoy!
2. Flutes From Tech Arts: The awesome creativity was also going on down the hall in our Tech Arts wing. Mr Mitchell has the students designing and creating amazing flutes in their metal work class. And while they may have a ways to go in learning how to play them, the final products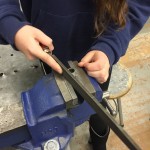 were truly incredible. There is something very satisfying about seeing the outcome of the learning that occurs in class.
3. Moustache Monday: This past Monday, the students and staff at HD Stafford Middle School got in the Movember spirit by sporting moustaches of their own for Moustache Monday. Movember is a great campaign to raise money and awareness for men's health issues such as prostate and testicular cancer. In fact, the LSS family of
schools has a team raising money (to make a donation click here). It was a lot of fun seeing the kids in their "facial hair" collecting house points for their teams. Thanks to the leadership class for organizing this fun spirit day.
4. Things Get Fishy In Mr Bedard's Class: We are so lucky to be right next to the Nicomekl Creek, in part because it is a spawning ground for salmon. How amazing when students can walk a few paces and see in action what they are studying in class. The grade 7s were learning about how the salmon effect the
ecosystems around them and how we as a community can effect the salmon run. For example, how the nitrogen from the dying salmon and decomposing salmon causes the forest to flourish. Now that is powerful, connected, authentic learning.
5. Room 121 Gets Crafty: The students in Division 21 spent some time this week tapping into their creativity with some paper and glue. Using these tools, they created amazing collages! The students had great support from the adults to create unique, amazing pieces of
art. So important to tap into that left brain thinking as much as possible.