November 17, 2017
Happy Friday! As we end another week at HD Stafford Middle, we have lots to celebrate! Here is our Hawk Squawk: November 17th. Please feel free to share with your family and friends.
Cross Fit Workout For HDSMS Students: Connecting with our surrounding community is a huge identity for us at HD Stafford Middle School. And this past week, we were lucky to connect with Campus Cross Fit who gave our students the opportunity to attend their facility and experience a cross fit workout. It was surprising for some of our students,
even those who are very athletic to see how tough these workouts can be. What an awesome experience and a huge thanks to Campus Fitness for supporting out kids.
Debating Fred Flintstone: Miss Cooper's Socials classes have spent the last few weeks learning about prehistoric humans, and more recently the qualities of a successful debater. Today, they demonstrated their learning by having a formal debate based on the live action Flintstone movie and
matched it against what they learned. Is Fred Flintstone an Early Man? The students formulated their ideas and then presented them in debate form to the entire class. The arguments were all creative and well-presented!
A Box Is A Box: As we begin a new rotation in our explorations, our students getting to experience Tech Arts are in for a real treat! Their first project was to design and build an ornamental box for holding jewelry, coins or whatever they want. The students get to use some of our power tools as well as utilize
their patience during the finishing stages of sanding and staining. Next up is to design and create a labyrinth game.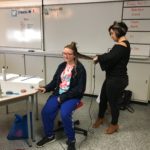 Career Visits In Gold House Grade 7: All of our students have curriculum based on "Careers." Our teachers are always looking for ways to bring student learning into the real world around them and this week, Ms Ashcroft was able to do that by bringing in a hair dresser to speak with the kids as well as demonstrate some techniques. Some students got a
nice hair style while everyone learned about his career choice. And while not for everyone, exposure to all the options is a great part of being in middle school. Huge thanks to Alison MacDonald for volunteering her time to come speak with our students.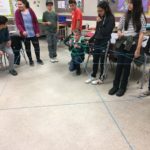 Creating The Web Of Life: We all know that learning is so much more engaging for many students when we can get it to the "hands-on" stage. And this past week, Mr Lee was able to help our Blue House Grade 7s better understand ecosystems but engaging them in active learning. The class discussed how all things living are connected to one another while having each student hold a piece of yarn. They then
discovered the impact changing one part of the web of life has on the other components. It was a great learning activity for our students and one that will certainly last longer than one lesson.