May 5, 2017
Happy Friday! Was a great day of learning for our staff while students enjoyed a long weekend. Lots to celebrate from this past week so without further adieu … here is the Hawk Squawk: May 5th.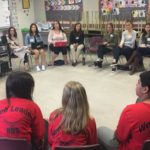 EdCamp35 At HDSMS:  Last Saturday, our school hosted an awesome unconference – EdCamp35. This event brings together all stakeholders in education including parents, teachers, SEAs, administrators, trustees and students. Participants chose their topics and then attend sessions that are open conversations on how to improve education. Topics included mental health, core competencies and aboriginal (to name a few). The best part was having some of our very own students be a part of the conversation.
Community Garden Gets Going: Our Community School Coordinator, Mr. Hendy has been
working hard behind the scenes to get our HDSMS Community Garden up and running. He has been working on creating partnerships with local nurseries, the City of Langley and others and this past Tuesday, we got to
break ground on the project. Many volunteers came out to help get planter boxes made, gardens dug and a variety of flowers and shrubs. We are excited to continue to watch this project grow and develop.
HDSMS Hub Of Learning For Pro D: Friday was a district professional
development day and HD Stafford Middle was certainly at the hub of it all. Our school hosted four events for all aspects of learning. We had many of our student attend the Red Cross Babysitting course while several staff attending one of the following: A presentation by BC Wild on how to integrate outdoor education in lesson; Reaching All Learners where
participants heard from Nancy Kawaga from Apple on how to integrate technology to make learning accessible to all; and a focus group looking at ways to authentically implement the re-designed curriculum specifically at HD Stafford Middle.
Physics Is Fun: This past week, the grade 8 students in Ms Donaldson's class had the
opportunity to put what they are learning in their Physics unit into action. They built marble tracks to prove Isaac Newton's 3 laws of motion. They had to include all of them in a creative way. They even included lights and HDSMS graffiti! It is projects like this that help the learning last longer than the unit ending exam.
Grade 5 Visit HDSMS: This past week, we invited all of our feeder schools to HD Stafford Middle School to participate in some fun activities. The transition to middle school is an exciting time that can cause some anxiety for students. Getting a chance to connect with our amazing WEB Leaders while getting into the building is crucial to helping that transition be successful. They got familiar with
that halls through a scavenger hunt, participated in some drama games and even had success getting lockers opened. We are really looking forward to June 28th when we have them all here at once for the entire morning.