May 12, 2017
Happy Friday! Was another amazing week at HD Stafford as the pace of learning and spirit was at top pace. Lots to celebrate so check out the Hawk Squawk: May 12th as you head into your weekend.
Jump Rope For Heart: It was great on Wednesday to see Jump Rope For Heart back at HD Stafford. After helping collect money to support heart related diseases, our students participated in the Jump Rope event. It was amazing to see the hidden talents many of our students (and staff)
have when it comes to skipping. It's an age-old hobby with great health benefits. And as a school we raised just under $500.00. A huge thanks to Mr. Safiq for organizing this event.
Next Level Leadership: This past week, we held an assembly for our grade 7s to introduce them to the concept that they are in fact the leaders of next year. As part of our WEB (Where Everyone Belongs) program they act as mentor to our incoming grade sixes, helping them navigate the first year of middle school and make connections throughout the year. They also are leaders in the building … academically, socially and athletically.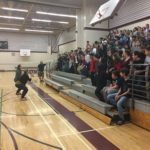 The students got a taste of some of the fun activities and were encouraged to pick up application forms on their way out the door. Looking forward to another amazing year with this program. Thanks to Mrs Chapman, Ms McArthur and Ms Cooper for all their hard work.
Grade Sixes Hit The Links: The students in Ms Balkovec's class had a great day this past week playing golf … mini golf that is. As part of an integrated unit in Science and Math students worked in collaborative groups to design and then build their own mini golf holes. Over the last few days, they put them all together to create a course that they got to play. It was a great example
of the kind of design thinking, critical problem solving and collaboration the re-designed curriculum is about.
Boys Are Upper Fraser Valley Champs: The HD Stafford boys rugby team has had a successful season and were hoping to carry that winning streak into the playoffs. On Tuesday they met up against their rivals, WA Fraser Falcons, to play for the Upper Fraser Valley Championship. It was a solid effort from the entire team, with our Skyhawks pulling out a 32 – 20 win! Next week they start their quest for a provincial banner in the Lower Fraser Valleys. Thanks to Coach Colleen and Mr. Horrocks for all
their amazing work with the team.
Students Head To Space: To end the week, Divisions 21 & 22 headed to the Macmillan Space Centre to test out Newton's Laws of Physics. This amazing opportunity connected perfectly with their learning in the classroom during Science. They had the chance to participate in rocket launches which was a hit. They also got to further explore the solar system and the universe on the interactive planetarium dome screen. It was a great day for the kids while
solidifying much of the learning that has happened.