March 4, 2016
It was another spectacular week at HD Stafford Middle School, full of excellent learning opportunities and awesome school spirit activities. Here is the Hawk Squawk: March 4th. Please be sure to share with your family and friends.
Grade 8s Discover Trades at UFV: On Thursday, approximately 60 of our grade 8 students had the incredible opportunity to participate in the Discover Trades program out at the University of Fraser Valley. Students had the chance to try out different trades in an authentic
learning environment. They got to experience hands on activities including power mechanics, carpentry, forestry and many many more. Was an great insight into what their future occupations could be. Thanks to the district and UFV for this incredible opportunity.
Staff Vs Student Basketball Game: As another successful basketball season comes to a close for all of our teams, the annual staff vs students game took place on Friday. It was a great time as the students played very well but were no match for the "mad skills" of
the staff. More importantly, it was great to celebrate the hard work of all of our players. And of course a huge THANK YOU to the many staff who stepped up and volunteered their own time to help coach.
Grade 7s Participate In A Virtual Field Trip: It is an amazing thing when technology and passion collide to create unique and powerful learning for our students. The students in Mr. Main, Mr Bedard and Ms Collins class participated in a cool opportunity sponsored by Google. The project was called Google Expeditions. It was an immersive virtual 3D experience that allowed
students to view 360 degree panoramas of different locations around the world.  Clearly the students were completed engaged in this visionary learning opportunity. Looking forward to the opportunity to participate in more in the future.
Animals Invade IFA: This past week the grade 7 classes in our Integrated Fine Arts group has the Urban Safari Rescue Society come in and share some amazing animals with the students. Chock full of knowledge, the presenters allowed the students to not only learn about these exotic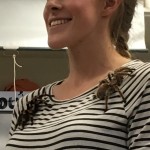 rescue animals but even to touch and interact with them. There were snakes, lizards and Ms V even had a very large spider crawling up her shirt. It was no doubt memorable and very educational for our students.
Micah Steals The Show: One of our most amazing students is Micah! He is a HUGE fan of basketball and spends his gym class every day repeatedly shooting the basketball into the hoop. So it was a wonderful moment during halftime of the staff-student game when Micah took to the court and wowed the entire crowd with his amazing ability to score on a consistent basis. It was great to see such support and clearly Micah was loving every minute of it! Click on the link to see some video of this special event.