March 2, 2018
The amazingness continues at HD Stafford Middle! Over the past two weeks as we lead up to report cards, the learning and demonstration of understanding has been at a fever pitch. Check out the amazing things we're sharing in our Hawk Squawk: March 2nd
Neon Dancing The Night Away: Last week, our PAC held their annual Neon Dance for our Skyhawks …. and what an awesome night it was! The students had such a great time dancing to music, playing with balloons and of
course, showing off their glow sticks and glow clothes. It was such a nice way to head into a long weekend. A huge thanks to all of our amazing parents who helped make this night such a success.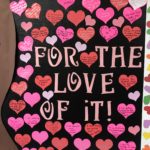 Sharing Love and Kindness: Over the past few weeks the students in Ms Forbes and Mr Horrocks class have been creating a heart wall! Students have taken the time to write out the things they love about HD Stafford and showing gratitude of the
staff and students that make up our amazing culture. And then staff had the opportunity to share the things they enjoy most about our amazing kids. It was such a nice way to celebrate the amazing school we have here at HD Stafford Middle.
Ode To Poetry: Over the past few weeks, Mrs Miller's class has been learning about poetry. Students learned about some of the important literary devices and figurative language that help create stunning visuals and stir emotions in readers. Students then used what they
learned to create their own unique poems varying from Limericks to Sonnets. As you can see, the final products were amazing!
Early Man Comes Alive: In Ms Ashcroft's grade 7 class, the students have been learning about Early Man. They brought all their understanding together and one a great showcase day where they worked collaboratively to share their learning. The students created amazing videos,
posters, 3-D models and much more. The best part was watching them light up as they talked about their learning. So important to share with peers what we learn!
Unity Through Diversity: This past week was Respect and Diversity week in the Langley School District and as you can, there were many things happening around the school all week. This display was great as it really had the students thinking about how we can embrace diversity and what that does to bring us together! It's a great theme that will hopefully last beyond the past 5 days.
HDSMS Coffee House: On Thursday we held our first ever HDSMS Coffee House
in the community room. Students and their families came from 7 – 9 to enjoy some great drinks, treats and best of all, networking and connecting with each other. We even had some student art on display and musical
performances. This is a great community connection and will be ongoing. It will be held on the third Thursday of the month so the next one will be March 15th. Thank you to Ashley, Quinn and Christine (or UFV social worker practicum students) for putting this awesome event together.  
Staff Vs Student Basketball Game: As is tradition at HDSMS, when a season
ends, the grade 8 team takes their skills up agains the Skyhawk staff. Recently it was basketball. The atmosphere was great in the gym as the staff and students played a hard fought game on the court. It
required overtime where the students pulled an upset beating the staff by 6 points. Congrats on a great game and a great season.