March 16, 2018
As we get ready to head off on our two week Spring Break, we have a very full Hawk Squawk celebrating all the awesome things that have been happening the past two weeks. We are so proud of the amazing learning and culture building going on at HD Stafford Middle School. Here is our Hawk Squawk: March 16th to send you into the break.
Business Is Open: On Tuesday of this past week, our grade 8s took over the gym for their Power Play Young Entrepreneurs Expo! For quite a few weeks, students have been working on designing a product, putting it to prototype, testing it and then marketing it. They learned all kinds of useful business skills as they focussed on audiences, price points, revenue and
costs. And on Tuesday, the school and community was invited to come and buy their products. Many students saw great success and even pocketed a little money. We are excited for our 10 finalists who will be going to the Idea Expo at the LEC in May.
Music To Our Ears: After a hiatus, we are so excited to have band back at HD Stafford Middle School. Our music teacher, Mrs Mills has been working so hard with our students and after 5 months, we had our first concert in front of the school and then a night performance for parents. It was amazing how far the students have come …
from squawky noises to wonderful music. We are so proud of their accomplishments and look forward to seeing how far they will go!
Let The Games Begin: One of the great traditions at HD Stafford Middle School is our quality boys and girls rugby programs. And recently we began our 2018 campaign with some exhibition games and the 7 Tournament out at DW Poppy. We look like both our girls and boys side are really strong so
we are excited about the upcoming season. Huge thanks to all our coaches and the kids who came out.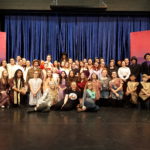 Chitty Chitty Bang Bang: Recently, our feeder high school, Langley Secondary School put on an amazing production of Chitty Chitty Bang Bang. And as an awesome transition, some of our very own Skyhawks were part of the show. It was so great to see this calibre of show performed by
high school and middle school kids. Kudos to …. for doing such an amazing job and representing HD Stafford Middle School so well.
It's Time To Eat: Last week, we had a great event for our grade 6s. The Langley Lions volunteers came to the school and cooked a pancake breakfast for all our grade 6 students. It was amazing that not only did our kids get a great breakfast, but it was all in an awesome atmosphere. They then donated additional money to help our school-based breakfast and
lunch program. So generous and appreciated.
Tulip Still Life: The students in Ms Lyth's grade 6 class have been really honing their art skills! Over the past few weeks they have been looking at
how to paint "still life" and used tulips as their subject. It is so great to see the kids really take pause and focus on the details of the flowers … this helped them create amazing drawings. It is so amazing for their own self-regulation development and also taps into their creative, artistic passions.