March 11, 2016
Happy Spring Break to all of our students. As you head off for a couple weeks of rest and relaxation, we have lots to celebrate from this past week. Here is the Hawk Squawk: March 11th. Please share with your family and friends and enjoy the break.
Genius Hour Hits HDSMS: One of the grade 8 electives we offered this past year was Genius
Hour. This concept allows students to engage in the inquiry process based on a passion topic of their choice. And the final presentations this past Friday did not disappoint. Students
looked at a range of topics from "How do people sneeze?" to "What happens to the brain while playing video games?" and had a great time sharing their learning with each other. Looking forward to seeing this idea spread even more to our regular classes.
HDSMS Emerges From The Darkness: Thursday was one of those rare crazy days when Mother Nature decided to throw a wrench into the regular school schedule. After a wicked wind storm, the power went out at HDSMS. But for those students who made it in, the
learning didn't stop. Many groups of kids enjoyed a variety of games and impromptu learning activities facilitated by the teachers. So great when you make the best of a rough situation.
Castle Fun In Grade 8: For the pat few weeks, our grade 8s have been fully immersed in a highly integrated medieval unit. Along with lots of role playing activities and cross curricular learning was the construction of group castles. These intricate designs included many
authentic components as well as some cool model accessories. There is no question this has been a very memorable learning unit for our students.
Eagles Reign Supreme In Intramural Soccer: One of the highlights of the Middle a school experience for many of our students is our lunch time intramural program. Over the past few weeks students have been competing in soccer and the playoffs were in full force this past week. On Friday the Eagles and Panthers duked it out for total supremacy with the Eagles winning a great game over the Panthers in a shootout. They have earned the right to take on the The Dream Team (staff) on the first Friday back after spring break. Thanks to Mr Safiq for all his work organizing this awesome opportunity for our students.
212 Students Hit The Farm: This past week saw some of the students from our 212 students make another trip to the farm. This powerful learning opportunity provided the kind of authentic, experiential learning that is so valuable for our students. They learn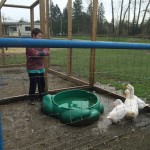 not only valuable skills for themselves but also how to give back to their local community. Huge thanks to Ms Janzen for coordinating this amazing learning experience.