March 10, 2017
Time certainly has flown from Christmas Break to now. So much amazing learning and celebrating here at HD Stafford Middle School. On behalf of the entire staff, we want to wish all our students and families a relaxing and safe Spring Break. To help you start it off right, here is the Hawk Squawk: March 10th.
Rugby Sevens Tournament: As we switch to another season on the calendar, more sports are up and running at HD Stafford Middle. This past week, both our boys and girls rugby teams participated in the Langley District Sevens Tournament hosted by DW Poppy Secondary. Our girls played strong all day, going undefeated and winning the
overall championship. Our boys played solid, making the championship game, where they defeated Yorkson handedly. This is a great start to the season for both our teams!
Celebrating International Women's Day: This past week, the world celebrated International Women's Day and some of our HDSMS staff jumped right on board. Ms Yzerman worked with our girls group to focus on empowerment and the importance of voice as they talked
about how to #BeBoldForChange. They created a great display of their thoughts and learning. With girls like these, the strength of women will continue for generations to come.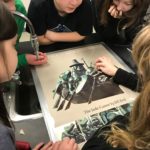 Print Making With Bill Reid: Ms Coleman's classes welcomed guest Lindsay Polluck from the Langley Centennial Museum. They have an outreach program called, "Monotype Printmaking with Bill Reid Images." This program brings in an art component where the kids get to make prints while learning about the artist Bill Reid and the Haida First Nation culture. Students had the opportunity to see some
of our First Nation artifacts (pelts, arrow heads etc..) from the museum's teaching collection to give that hands-on learning experience.
Thermos Challenge: Students in Ms Donaldson's Science class built a thermos from scratch using homemade materials. The goal was to see who could design the most efficient thermos. They used their knowledge of kinetic molecular theory to pick materials and construct quality insulators. The winner is the person with the hottest water at the end! Jake A was the winner in
Division 3 and his thermos only dropped 8 degrees Celsius in 30 minutes. Cole & Chris won in Division 4 with a temperature change of 9 degrees Celsius in 30 minutes.
Pythagorean Art: Always so great when we can integrate learning for students. Makes it that much more meaningful. In Ms Elstak's class, students were combining math and art! They created Pythagorean Spirals to learn how Pythagorean Theorem helps us find the missing side of a right triangle. The students enjoyed some
wonderful learning and produced some amazing pieces of art.