June 24, 2016
Hard to believe we are at our last Hawk Squawk of the year. There have been so many amazing things to celebrate at HD Stafford Middle School from the last ten months! And this past week is no different. Here is the last Hawk Squawk: June 24th of this school year. Be sure to share with your family and friends. Have an amazing summer.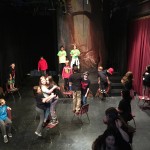 Future Skyhawks Take Over HDSMS: On Friday our regular students had their "I" day to catch up on missing work. So while the school was empty, we invited our future Skyhawks into the building for a half day of fun and connection. They had the opportunity to rotate through a variety of
different stations that included drama, art, cooking and woodwork. And yes, they even got to practice on the locks one more time before summer. Then of course, some pizza! We are really looking forward to having these students part of the Hawk House in September!
IFA Adventure Week A HUGE Success: The students in our four integrated Fine Arts classes have a tradition of celebrating the end of the school year with their IFA Adventure week. They plan a series of low cost field trips that are a blast for the kids to really solidify the amazing bonds they have developed over the year. This past week, they went to the Fort To Fort Trail, a movie at Colossus, swimming
and to the beach. A clearly a great time was had by all. A huge thanks to Mrs Coleman, Ms McArthur, Ms van Nieuwkerk and Mr Cavalli for planning this memorable week for our students.
Welcoming Syrian Refugees Into Our Skyhawks Community: Over the past few weeks, HD Stafford Middle has been lucky enough to receive some of the newest arrivals to Canada. These Syrian refugees come from a variety of different situations, but are all excited for the opportunity to be in school in Canada. It was special this past week as students from Mrs Lacroix's class introduced our Syrian students to the
game of baseball. The amazing connection they had extended far past the language barrier as there were smiles and laughter from everyone. We are looking forward to having more students join us next year to enrich our school community and culture!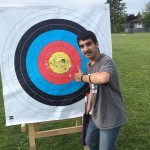 BC Champ Right Here At HDSMS: Last week, one of our very own students competed in the BC Male Cub Bare Bow provincial championships in archery. Navid has been working all year long under coach Sandquist during our weekly archery club. And this past weekend it showed the entire province how far he's come by coming in first place in his division. We are very proud of Navid and appreciate all Mr. Sandquist does to provide this awesome opportunity to our students. Can't wait to see what talent emerges next year.
Grade Six Science Presentations: Division 7-8 had the chance to show off their final projects for
Science this week. They have worked hard all year, and this was a chance for them to show their overall learning. The students chose any subject
from this year's Science class and did their own inquiry projects and presentations. So powerful to not only take ownership of their learning but also share it with their peers.