June 24, 2017
A day late, but still full of awesomeness! As we enjoy this beautiful weather on the last weekend of the school year, here is what we are celebrating from the past week! Enjoy the Hawk Squawk: June 23rd.
New Logo In Honour Of National Aboriginal Day: This past Wednesday was National Aboriginal Day. And to help commemorate the day, our very own Mr. Bedard was commissioned to create a version of our school logo, the Skyhawk, with Aboriginal influence. As as you can clearly see, the end result is amazing! The child is represented in the centre of the Skyhawk as this is what we work so
hard for everyday! Great legacy for our school. Thank you for the gift Mr. Bedard.
Ceiling Tiles Get An Upgrade: We have a great tradition at HD Stafford Middle School of having certain classes paint ceiling tiles to
replace the plain white ones. Students work collaboratively in groups to design a sentimental piece that commemorates their school year. It is so amazing to see the different ideas and the awesome talents that emerge. And at the end of it all, our school looks that much better!
IFA Adventure Week: For the last few days, our IFA classes
participated in their annual Adventure Week to celebrate the end of the school year. They went to Crescent Beach, Fort Langley as well as to
the movies! The weather cooperated for everything and the students had an amazing time. So great when we can come together and celebrate our accomplishments!
Historic Fort Langley: Our grade 8s took a field trip to Fort Langley where they had the opportunity to enjoy the natural beauty and learn lots about this historic landmark. They walked the Fort-to-Fort trail, visited the local cemetery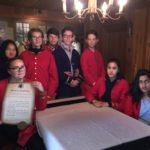 where they did "grave rubbings" and then even had a gander at The Proclamation. Nice to know that even on a fun day out of school, the students were learning ton.
Sweet Time In Access: The amazing students in our ACCESS program often take time each week to practice their life skills in the kitchen. They work collaboratively to create the food and then, of course, enjoy eating it afterwards. On Wednesday, they made cupcakes
which they then decorated with icing and sprinkles. Needless to say, this was a hit with the kids … and the staff.