June 19, 2016
Where is the time going? Only one more full week of school to go. No question staff and students at HD Stafford Middle are going full tilt until the end. Here are the things we're celebrating in our Hawk Squawk: June 17th. Please be sure to share with your family and friends.
Science Fair: For the past few weeks our grade 6s in Mrs Zawaduk, Mrs Saumier and Ms Cooper's classes have been working extremely hard on their Science Fair projects. They were given the opportunity to delve deep into a topic of passion and conduct inquiry on their questions and ideas. They created amazing presentations that were shared with students and staff alike. It was great to have such amazing learning on display and great to see such pride in the faces of our students.
Access Goes To The Zoo: We are so proud of how far we've come with the expansion of our Access Program this past year. Some of our most amazing students have had the opportunity to get into exploration classes, go out on incredible field trips and be a meaningful part of our
school community. This past week, they celebrated the end of the year by joining other students from around the district with a trip to the Greater Vancouver Zoo. They spent the day enjoying the amazing animals, and the company of each other. A huge thanks to Ms Gollner and the SEA team for making this great day happen!
A Day At The Beach: The grade 7s took their learning on the road this past week with a field trip out to White Rock. They spent the day at Crescent Beach doing some hands on learning while celebrating all of
their hard work this year with a little fun! The weather cooperated and a great time was had by all. Thanks to Mr. Brandolini and Mr. Grill for organizing this day for our students.
Rube Goldberg Takes Over: The students in Mr. Jung's class were FULLY engaged this past week when they were given the challenge of making a Rube Goldberg machine. It is a simple concept that allows for amazing collaboration, creativity and critical thinking. Students have goal and then build a series of simple steps that align to complete the goal. And the best part of this learning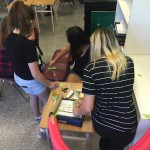 activity is that completing the challenge is irrelevant as the process of trying the machine and making adjustments is where the real learning occurs. It is so great to see students engaged in powerful learning right until the end of the year.
Grade 5 Letters: There are a few different ways we work to transition our grade 5 students into HD Stafford Middle so they are ready to hit the ground running as our newest Skyhawks. They are always so excited to join our school community and as a way to make them feel welcome, our current grade 6 students wrote individualized letters for each grade 5 student. They shared with them what middle school is like and explained all the amazing opportunities that await them in September. They gave them some tips on how to be successful and even a HDSMS sticker to start their spirit wear! Can only imagine how excited they'll be next week when they get to come up for the morning!