June 16, 2017
As the year winds down there is still lots going on at HD Stafford Middle. Only a couple of Hawk Squawks left this year and still so much to celebrate. Here is the June 16th Edition.
2017 Grad Walk: On Thursday we had one of the more powerful events at HD Stafford Middle.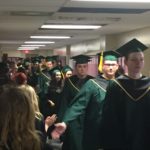 The graduating class from Langley Secondary came to the school for the Grad Walk. The HDSMS students lined the halls and cheered our
high school grads as they went through the school. Was great for staff and students to connect to this important milestone and reminded all of us the end goal of the K – 12 educational system! Amazing!
Science Fair: the students in Ms Zawaduk, Ms Cooper and Mrs Saumier's classes have been
working hard on their Science Fair projects for the past few weeks. And on Friday they had the opportunity to share their learning with their peers, families and other staff. The topics ranged from How Elevators Work to Hovercrafts
. What was clear was students were really engaged in this inquiry project and had learned lots!
Grade Sevens Hit The Beach: It was a very rainy and cold day on Thursday but that did not stop our grade 7s from heading to Crescent Beach to celebrate the end of a successful school year. While I'm sure they planned on swimming and sun
bathing, the students and staff made the most of the bad weather but playing games, collecting shells and some even braved the water. And apparently ice cream is an all weather treat! Thanks to our teachers for organizing this great day for our students.
Cibou Final Assessment: The Grade 8s in Ms Lacroix's Humanities classes are wrapping up
the novel Cibou. For their final projects, students had multiple choices to choose from to best demonstrate comprehension and critical thinking. Among their choices were to retell the story from another character's point of view, to write it as a children's picture book, as a
country or rap song or as a movie, to create and justify 5 themes that apply or to create a mini movie trailer. Clearly students took advantage of tapping into their passion areas while demonstrating their learning.
Playland Trip A Blast: It is so great to celebrate a successful school
year. On Friday, our grade 7 and 8s went to Playland as a celebration of a wonderful year. This is always a popular day for our kids and staff! Many runs on the roller coaster, mini donuts and games made for a
great day. And the weather even cooperated with them! Thanks to our staff for organizing and especially our parents who volunteered to go ensure this could happen.
BONUS SQUAWKS!!!!
Grade 6s Learn To Pee: Divisions 21 & 22 are currently studying body systems and to better explore the urinary system, the classes created simple kidney models to filter out unwanted contents and see what a
kidney filters out of blood and what ends up in their bladder.
Create A Civilization: The grade sevens in Mr. Brandolini's class have been culminating their Humanities unit by creating their own, complete civilizations. They demonstrated their
learning through a comprehensive civilization they created complete with functioning governments, religion and commerce. It was amazing to see how much learning came through as they worked collaboratively through this project. The final maps
and presentations were amazing!