January 8, 2016
Happy New Year! Hopefully everyone had a great time during the Christmas season with family and friends. After a restful holiday break, we got right back into the swing of things in the first week of 2016! Here is our Hawk Squawk: January 8th. Please be sure to share it with others in our community.
Communication In Leadership: The grade eight students in our Leadership elective learned the power of communication through a great activity they participated in this past week. Ms Lacroix had them sit back to back with one person describing a picture while the other person had to draw it on a piece of
paper. It became clear that effective, clear communication was necessary for the hand drawing to best replicate the actual picture. This is a great transferable skill as this group works with our entire student population.
Learning Math Through Games: The students in Mr Grill's class have a great Friday tradition of playing crib. They even have a round robin style tournament they engage in. Not only have the students learned how to play
this traditional and popular card game, they develop their mental math skills and reasoning abilities. All while having fun. There is something so powerful about learning through play.
Community Room Transition Begins: This past week saw the infancy stage of our new Community Room at HD Stafford Middle School. This space has been pared down to basically a blank slate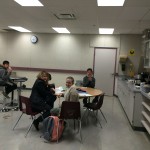 and over the next few months will be transformed by students and staff into a wonderful centre of our school We began serving breakfast and lunch out of here this past week and setting up some of the structures. A major renovation will also occur to help create a space where students can get academic, social and emotional support before, during and after school. Huge thanks to all our partners for their tremendous support of this initiative. Stay tuned!
What Makes A Friend? Some of our grade six students have been working through a Health And Career unit connected to friends. Specifically, they are having deep discussions and self-reflecting on what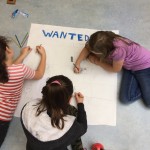 the qualities of a good friend are. And during this transformative stage of a child's development when the opinions of peers becomes more relevant, being able to decipher between good friends and poor friends is extremely important. These "Wanted" posters will be a great tool for all of us to learn from.
Explorations Take A Turn For Term Two: One of the amazing aspects of being a student in a middle school is the opportunity to access exploration classes. Recently we began another term where students switched from their term one exploration to their term two exploration. Those in Mr
Mitchell's woodwork class are busy learning how to use the tools to create some amazing projects.