January 20, 2017
Another great week has come and gone. We are so excited to have guest bloggers for our Hawk Squawk this week. Ms Ashcroft's class has been working on this all year and are now ready to be contributors to our weekly celebration blog. Look for those at the end of this week's post. Here is the Hawk Squawk: January 20th. Please be sure to share with your family and friends.
CHILL Program Helps Kids Hit The Slopes: We are so proud to have a partnership with the CHILL Foundation! Each year, they give the opportunity to some of our students to learn how to snowboard. This is a chance that would otherwise go missed if it weren't for the generous donation of funds and time for these kids. This week was
the first session and Alex, Josh, Zack and Daniel were already looking like naturals. They get to go five more times and will hopefully have a new passion to last a lifetime. Thank you to Mr Bedard and Mr Horrocks for volunteering to be the school sponsor.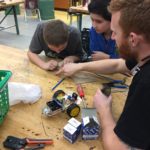 Domo Arigato Mr Roboto:  We have been so lucky to have a Robotics Club for most of this school year. Students have had the opportunity to build their own robots and then maneuver them with a remote control. They also get to do a little programming using the Lego robotic kids. They are given different challenges based on a maze and have to program the vehicle to go through the maze and complete different tasks. We are even
looking to host a robotics competition at our school in the near future. Thank you to Mr. Mitchell and the amazing volunteers from BCIT for making this great opportunity possible.
Shakespeare Rehearsals Going Strong: A few months ago, Ms McArthur held auditions for our upcoming play A Midsummer Night's Dream. And after the excitement of that week subsided, the real work began. Many days after school these student have been working very hard learning lines, positions and timing in preparation for our upcoming shows. We are so excited that opening night, February 14th is just around the corner. Of course a little nervous as well. Be sure to plan to be here for one of the shows during that week.
Speaking of Learning: The grade 6 students in Ms Passaglia's class began to work on
their public speaking unit this past week. As a warm up to creating their actual speeches, students were given the task of creating a "how-to" outlining their favourite recipe. The students had to pay
special attention to the descriptive words they used as well as being clear in what they say. This will be great practice for the real deal.
Flying High In Ms Narang's Science Class: One of the themes of our Hawk Squawk posts is the power of hands-on activities to make learning powerful for students.  Ms Narang's class are working on scientific inquiry. Students were given a test plane with specific measurements and they had to design, build and fly their own plane
and compare theirs against the test plane. They got engaged in writing their own investigation statement, form a hypothesis and then analyze their hypothesis with the collected data.
Students enjoyed each and every step of this investigation and developed a good understanding of how scientific investigations are conducted and scientific theories are developed.
Guest Bloggers: 
Zoe, Andrew, and Miah: Halle and Abby were the class artist of the week. Halle interviewed her uncle that edits movies and movie trailers. And one of them was Star Wars! We thought it was very creative and cool. She told us a lot of things we didn't know. We asked "were there any other names that were considered for the title of the movie?" He wanted to name the movie Echoes of the Force. We didn't know what. We also picked Abby too because she told us about jobs and made us laugh a lot. Abby told us what jobs not to get so now we know.
Keira, Emily F and Sophie H: Daniella's Skyhawk Squawk was "jokes." We all could agree that everyone likes jokes; whatever makes us happy and puts a smile on our face. And Daniella did exactly that. And here are some of the jokes she said. "Why did the banana go to the doctor?" After people asked "why" she let us know "because he was peeling very well. Some people were laughing while others were groaning a little. But everyone was smiling.