January 15, 2016
Happy Friday. Was a short week for students but certainly no shortage of amazing learning and Skyhawks spirit at HD Stafford Middle School. Here is our Hawk Squawk: January 15th. Please be sure to share with your family and friends.
You Got A Friend In Me: Division 20 and 21 have been discussing important qualities for a good friendship and a healthy relationship. As part of there-designed Health and Career Education curriculum, they discussed the importance of healthy relationships and maintaining these qualities. This will segway
into the topic of peer pressure, both the good and the bad. These are clearly skills that will serve these students long after they leave the halls of HD Stafford Middle School.
Why School? The grade 8 students have embarked on a powerful unit exploring the purpose of school. They are going to be tackling a variety of angles including how to reflect on a student's own personal motivation and engagement when it comes to learning at school and beyond. To help start the conversation, they wrote their
thoughts on a variety of statements connected to some different aspects of school life. Will be amazing to see them continue to express their ideas over the next couple weeks.
Quel Temps Fait-Il? The students in Ms McArthur's class have been studying different French terms related to the weather. However the learning was taken to a deeper level when they were asked to connect their learning of the language to a more practical setting by creating their own weather reports in French. They took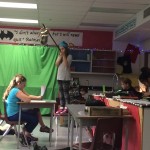 advantage of the iPads and some green screen technology to work on these awesome productions. And while they may never be weather reporters in Quebec, they definitely learned some skills that will last a lifetime.
HDSMS Staff Go To School: On Friday while students enjoyed a day off, the staff from HD Stafford Middle spent the entire day participating in professional development connected to the re-designed BC curriculum. They joined other middle school educators in the district for a day of learning and collaborating as they continue to
develop and implementation the new and improved learning for our students. The best part is, much of the learning they did can start in the classroom right away. If parents are interested in checking out the new curriculum, they can click here.
Students CHILL on Cypress: This past week, some of our students had the opportunity to participate in the CHILL program. Chill's core youth development program revolves around a six-week curriculum that uses snowboarding to teach life skills and increase self-esteem in underserved youth between
the ages of 10-18. The student's use their time on the ride up to the mountain to learn about the weekly themes (patience, persistence, responsibility, courage, respect, and pride) through an activity, and reinforce the concept during their time on the mountain. Thanks to Ms McArthur and Mrs Hayer for organizing this amazing learning opportunity.