January 13, 2017
Another awesome week at HD Stafford Middle School. So much amazing learning and celebrating going on. Here is the Hawk Squawk: January 13th. Please feel free to share with you family and friends.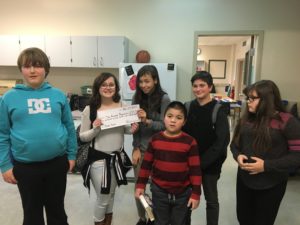 Random Acts of Kindness Run Rampant At HDSMS: As part of the Career curriculum, Divisions 3 & 4 have been brainstorming ideas on how they can make a difference in their community and help those in need. What started out as a simple assignment – spreading 3 small acts of kindness – turned into an epic week of challenges and messages of love! Some notable acts include a signed football for our beloved
coach, Mr Safiq, from the football team, gift baskets and donuts for the office staff, and cards of encouragement and kindness for all staff members. Some of our students also started a bake sale, which raised hundreds of dollars for our Access program. Our Stafford students have been showing their Skyhawk pride and hitting it out of the park. Great job, Division 3 & 4!!
Let The Games Begin: The HD Stafford Grade 8 Game of Thrones is back! Students are actively involved and engaged in a medieval role play game where strategic alliances, royal weddings, and whispers of secret plans are all played out in the halls and classrooms. Students are born into a certain societal class by lottery consisting of nobles,
knights, peasants and serfs and then have to negotiate how they are going to live with each other and share the extremely scarce resources. Manor houses are built, trades are provided, defences are planned, jousting tournaments take place and battles are won and lost.  Each day students roll to try and increase their fixed income, gain heirs, pay taxes to their nobles and a 10% tithe to the Archbishops and Cardinals. All this while trying to stay alive in a brutal medieval world where the threat of attack and assassinations lurk around each corner. It is exciting to see the students so engaged and hands on in their learning!
Learning Gets Mucky In Ms Balkovec's Class: The students in Ms Balkovec's grade 6 Science class are learning about matter. And while you can learn some stuff from reading and watching, getting your hands a little dirty is always an engaging way to understand
something. The students got to explore how matter can go from a liquid into a solid simply by changing the mixture. There is no question they were engaged and having fun while learning about Science.
Martial Arts Learning For Our Skyhawks: This past week, we had the Revolution Martial Arts at our school to work with individual classes. Students learned some great self-defence techniques as well as the importance of discipline in martial arts, in school and in life.
And this was all while getting some great fitness. Thank you to our Community Coordinator, Mr Hendy for organizing this great opportunity.
Amazing Pro D For Some Of Our Staff: This Friday, some of our staff had a very special opportunity to see Sir Ken Robinson present
in Abbotsford. This world renowned educational thinker became popular with her TED Talk, Do Schools Kill Creativity? He spoke about the importance of making learning authentic for kids and tapping into their passions. We are excited to be able to bring this learning back to the classroom to help the learning of our students.