December 9, 2016
Well is the frigid temperatures didn't say enough, the snow certainly indicates winter has arrived. Was an exciting week at HD Stafford Middle, with lots of great learning and spirit building going on. Here's our Hawk Squawk: December 9th. Please be sure to share with your family and friends.
Whiteout At HDSMS: Well it doesn't happen that often on the West Coast, but Mother Nature decided to dropped a significant amount of snow on the Langley area this past week, especially Friday. And very little gets students as excited as the sight of snow! The first flakes
early in the week caused much distraction through the window and Friday proved to be a ton of fun for students as they built snowmen and made snow angels. More is on the way so it is definitely beginning to look a lot like Christmas.
Reconciliation Through Aboriginal Art: HD Stafford Middle is so very proud to have committed to the journey of Truth and Reconciliation with our Aboriginal Peoples. And this past week, we took some time out to use the media of Visual Art to learn about Aboriginal history as well as drawing skills. Carman Mckay joined
some of students to learn about traditional Native Art while creating some amazing pieces. The students (and staff) were fully engaged in some powerful learning. Thanks to Mrs Matthews for organizing this great event.
Gingerbread Houses…For The First Time: As we approach the Christmas season, many families engage in traditions connected to the holidays. Whether it is going to see lights, hot chocolate by the tree or singing around the piano, we can sometimes take for granted
these special times. So it was cool this past week to see some of our newcomer students experiencing the tradition of building a gingerbread house for the first time. They had so much fun not only building it, but sharing their festive traditions while learning about those from other people. And of course the candy was a hit.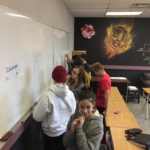 Engaged Learning With Mr Jung: One of the key goals in a middle school (well any school for that matter) is to authentically get students to engage in their own learning. We strive to move past simple compliance to a place where students are engaged in learning for the right reasons. Mr Jung has really been making his students aware of
this idea and continues to design lessons where students are able to safely take risks and engage in their own learning, not for a mark or because they have to but because they want to. And as you can see by this recent Math lesson, engagement is reaching 100% a lot of the time.
HDSMS Wins Robotics Competition: Over the past few weeks we have been so excited running our Robotics Club. Students have been engaging in some high level problem solving while having a blast. This past weekend, they took their talents on the road to compete in their first Sumobot Robotics Competition! They headed into West Point
Grey School to take on other teams from around the Lower Mainland … and they WON!!! Congrats to all the students on their awesome accomplishment! And huge thanks to Arnel for BCIT for running this amazing opportunity for our students.