December 16, 2016
Merry Christmas! We hope you are all ready to have a great break with time spent relaxing and enjoying family and friends. To help get you in the right frame of mind, here is the Hawk Squawk: December 16th. From everyone here at HD Stafford Middle, we wish you a very Merry Christmas and a Happy New Year!
1. HDSMS Shows North Pole's Got Talent: One of the awesome Christmas traditions at HD Stafford Middle School is the North Pole's Got Talent show. This talent show features our own amazing students singing, dancing and doing some acting. The performances were
amazing and our awesome hosts/MCs Nathan and Robert were great. The show ended with a video from the staff on what they do once Christmas break hits. Check out the hilarity by clicking here. 
2. IFA Goes Pro With Acting Workshops: It is such a great opportunity for our students to have access to learning beyond our walls. And even better when we can bring that expertise into the school. This past week, the student in our four Integrated Fine Arts program had the opportunity to work with David C Jones, a professional actor
and producer. He took the students through a variety of activities to help move their acting skills forward, all while increasing their confidence on stage. Thank you to Ms Ashcroft for organizing this great day.
3. Flipping Out In Ms Donaldson's Class: As a parent of a middle years child, you are no doubt familiar with "bottle flipping." For many of us, the constant flipping of half filled bottles over and over is quite annoying however Ms Donaldson decided to turn this craze into a great learning opportunity for her students. She had them conduct several different experiments based on the type of water bottle, how full it was, etc. It was some very engaging
learning for our students. And maybe it was enough to get all that flipping out of their system 🙂
4. Access Spreads Christmas Joy: Our students in Division 23 spent lots of time this past week spreading Christmas joy both within our school and beyond! They put together a coffee cart and went around giving staff coffee, tea and sweet treats to help start their day off right. They also made Christmas cards and then went around the neighbourhood to deliver them in person to our neighbouring houses. It's just another example of how this time of year
really can bring out the best in people.
5. Division 20 Goes Old School This Christmas: This past week, the grade six students in Ms Cooper's class had the opportunity to see what Christmas was like in the past … like the distant past. They went to Lochiel School to experience a pioneer Christmas. Here they learned about where some Christmas traditions originated but also got a taste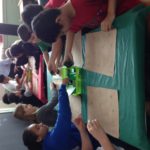 of what school was like during that time. They learned that things were much stricter as they connected to their unit on global rights and citizenship.
Christmas Bonus Squawk … Snow Much Fun In The Snow: Well we got a little teaser last week, but the last few days saw a real dump of snow in the Fraser Valley. And the students at HDSMS took full advantage early on this week. With about 6 – 8 inches on the ground, students had a blast making snowmen, sledding and
participating in a snowball fight. We don't get snow often so it was great to see so many students (and staff) taking full advantage of it.