December 11, 2015
And then there was one … week left that is. As we all gear up for the Christmas season, there is still great learning and wonderful spirit at HD Stafford Middle School. Here is our Hawk Squawk: December 11th celebrating the amazing culture at our school. Please be sure to share with your family and friends.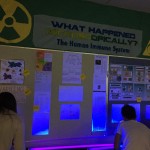 Zombie Attack In Mr Jung's Class: The grade eight students in Mr Jung's class have been working on an amazing integrated unit utilizing the very popular topic of zombies. The students worked through Science, Math and even Humanities curriculum through their zombie
projects and then took things to the next level by sharing their learning with their peers. In fact, this past week they held their "unit exam" which was an open book walk around getting information from each other's projects. What an authentic, connected way to empower student learning.
HD Stafford Host Grade Eight Tourney in Skyhawk Invitational: Friday saw the kick off of the annual Grade Eight Girls Basketball tournament hosted by HD
Stafford Middle School. The Skyhawks Invitational brings together elite teams from around the Fraser Valley to compete in a weekend of fun and hoops. In front of the entire school, our own team played Clayton Heights and turned in a stellar performance! We are hopeful the rest of the weekend will yield similar results. Check out the team video by clicking here.
Mesopotamia Is Recreated In Division 7 & 8: Divisions 7 & 8 have been hard at work learning about Mesopotamia and immersing themselves as players in the
Kingdom of Babylon. Friday was their wrap up celebration. They had plays for the glory of Hammurabi, Astrologers were telling fortunes, and there was a special presentation by the citizens of the City State Dilbat. There was even a court case for the Governors to
judge! And of course, some delicious food! What a great way to have students learn about an Ancient society and connect it to our world today!
HDSMS Students Tap Their Way To Third In The World: Kaprice and Jamie auditioned for Team Canada Tap Dance last May and both qualified for the Junior Team.As a result of this accomplishment they got to go to the World Tap Dance Championships in Reisa, Germany from December 1-5. The World Championships are essentially the Olympics of Dance and are the highest level of dance competition that can be achieved, there are over 90 member countries that were participating. The girls came in THIRD
PLACE!!!! It is such a great example of hard work, perseverance and the pursuit of passion being rewarded. A great lesson for all of us. Congratulations girls.
Grade Sixes Go Old School For Christmas: This past week, the student in Ms Cooper's class went on a great field trip to the heritage Lochiel School to experience a Pioneer Christmas. And
the kids ate it up! They pretended they were in 1924 for the first half & spent the second half making traditional Xmas crafts! What a great connection to the curriculum, our history and the festive season.