April 29, 2016
What an awesome week. With rugby playoffs, field trips and plenty of hands-on authentic learning, there is lots to celebrate this week at HD Stafford Middle School. Here is the Hawk Squawk: April 29th. Please be sure to share with your family and friends.
Administrative Assistant's Day: This past Wednesday was national administrative assistants day.
And while we are thankful everyday, it is a good time to step back and truly appreciate the amazing work they do. At HD Stafford Middle School, we are beyond lucky to have two of the best in the business. A tremendous thank you to Mrs Power and Mrs Dick for all they do to keep HD Stafford Middle School running smoothly.
Conductors and Insulators With Mr Bedard: The students have been learning about what makes good conductors and insulators when it comes to electricity. And while it is one thing to read about it in a book, it is a whole different experience when they can get hands-on in our Science lab and
conduct experiments to test their theories. This is exactly what happened this past week as they threw on the lab coats and discovered which materials conducted electricity and which did not. Such powerful learning for our students when they can get their hands dirty.
Access Program Gets Planting: The students in our low incident Access Program took their classroom learning out into the community this past week with a field trip to the Kwantlen Nursery. They not only learned about plants and gardening, but got to participate in creating
baskets and planters. They even got to bring some of them back to the school. It is so amazing to see the awesome kids out being a part of the great HD Stafford community.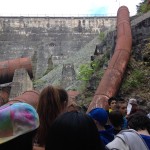 Electric Field Trip For Grade Sixes: This past week, Ms Zawaduk, Ms Cooper and Mrs Saumier's classes went to the Hydro dam at Stave Lake to learn all about electricity. This amazing field trip truly encompasses hands-on learning while giving the student a fun, memorable experience. The students
are able to connect their classroom learning with the authentic world around them. They came back buzzing about what they got to experience.

Robotics Club Starts Up At HDSMS:  On Monday, we were excited to continue growing our partnership with community organizations to provide
out of school opportunities for our students. Our robotics club began through volunteers from BCIT and it was a huge success. Over 25 students stayed after school to begin hands on inquiry in this exciting field. They are already looking forward to next week's class.