April 28, 2018
Happy Friday! It has been an amazing couple of week here at HD Stafford Middle School. A few big events going on as well as amazing learning in the classrooms. Was great to have some sun in there as well! Here are some of the things we're celebrating in our Hawk Squawk: April 27th. Please fee free to share with family and friends.
Langley Book Of The Year: Mrs Zawaduk has been spending some time over the past few weeks having our students who are interested in reading through our Langley Book of Year options. Every year, the district puts out a variety of books that students can read. Then if they get through a certain number,
they are eligible to vote for the ultimate Langley Book of the Year. In our Learning Commons, we turned the voting into a celebration for our students who qualified. What a great event!
Speech Fest Tradition Continues: Last week, HD Stafford Middle was proud to host the Regional Semi Final for the city schools after having our own school event a couple days prior. Many of our own Skyhawks earned a spot in the Regional Semis and represented themselves very well. And from that event, Hannah Murphy earned the
chance to compete in the District Finals, where she did an exceptional job. It is such a valuable skill for our students to learn at such a young age. Thanks to Ms Passaglia for organizing these great events.
HDSMS Track And Field Event: We were excited this year to introduce our first ever HDSMS Track and Field event. Last Friday we took all of our students to McLeod Athletic Park to participate in a variety of events that they selected. It was an amazing day of competition and friendly, spirited rivalry
between houses. Many students qualified for the upcoming Langley District Middle School Track and Field Meet on June 5th. Check out this video for an amazing summary of a great day! And thanks to Mr Safiq and our entire staff for making this day possible.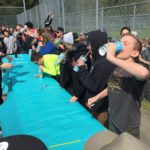 Slurpee Chug: It is awesome having such a great connection with Langley Secondary School, given that our students transition there after grade 8. Recently their leadership class came during lunch to host a Slurpee chugging contest with
our students. It was a lot of fun and quite entertaining watching kids try to get those drinks down in record time. Everyone had a blast and it was another great Skyhawks-Saints spirit event.
Metis Weaving: We are so proud of our explorations program and the opportunities it provides for all our students. The amazing kids in our ACCESS program are currently in our
OACES exploration and are learning about Metis and the art of weaving. They created amazing weaved blankets and had a great time with the process.
HDSMS Band Whistler Bound: We have been so excited to have band this year for our students. They have come so far in such a short time and on Friday they headed out on their first ever band trip. The grade 7s and 8s joined forces with the band at Betty Gilbert Middle School to play at the 2018
Cantando Festival. They did such an exceptional job with their performance and represented our schools very well!