April 22, 2016
It has been another amazing week here at HD Stafford Middle School. So much amazing learning for our students, with lots to celebrate. Here is our Hawk Squawk: April 22nd. Please be sure to share with your family and friends.
A SOARING Assembly For Earth Day: Today is National Earth Day and to help commemorate this reminder of the importance of the environment around us, we invited a group from the Greater Vancouver Zoo to present to our schools. The Radical Raptors came and brought with them three amazing birds, a falcon, an owl and a large eagle. They shared information about each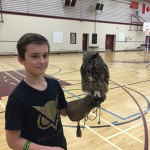 bird, talked about the work they do there and invited the students to volunteer their time to help the animals. Several staff also got a chance to hold the birds during the assembly, an opportunity they will not forget. So important to remember the important place of humans in the world around them.
Jessie Miller Share Expertise On Social Media: On Wednesday, Jessie Miller from Mediated Reality spent the day presenting to our grade 6 students as well as some of our grade 7 students on the role of social media in the world around us. Students were exposed to the idea that stuff in "the cloud"doesn't just disappear and the importance of their "digital tattoo" in the world. It was engaging for students and a great lesson given the amount of time students spend on social media sites. Huge thanks for Jessie for spending the day with our students and the evening with our parents.
Yoga To Start The Day: There is no question that learning happens best when students take time out
to physically activate their body and brain. And one of the things some of our grade 6s do to start their day is some yoga in the gym. It's a great for students to calm their bodies and minds so they are ready to face the day. So glad our students get this opportunity.
The Economy Of Mr Brandolini's Class: This past week, the grade 7 students in Mr. Brandolini's class participated in an awesome role play game based on their unit on Ancient Greece. This Greek city states trade/colonization game saw students in groups that have unique resources which they have to trade along with money and food to produce products. They negotiate their own market price.
This was a good simulation game about trade, supply and demand and alliances. This kind of learning through play is so powerful for our students.
Bubble Volume: This past week some of our IFA students had the opportunity to do what would seem impossible. Using a combination of Math and Science, they worked on calculating the volume of a bubble. And while it definitely took some work, the most powerful part was the inquiry and learning that occurred through the experiment.