Welcome to HD Stafford Middle School
"HOME OF SKYHAWK NATION"
We are a vibrant community of learners and educators that are passionate about excellence in Middle Years Education while fostering a deep and positive connections along the journey! 
WELCOME BACK SKYHAWKS!
Where does the time go!! I hope everyone had an amazing and relaxing summer with family and friends. It is really is important to take time to rest, reconnect and recharge in the beautiful BC summers. While we are always a little sad to see summer come to an end, we are very excited about another fantastic year ahead at HD Stafford Middle School!
Many of our staff have already been in, getting ready for our new and returning Skyhawks to break through the door – and we can't wait to see their smiling faces in a week! I would like to send a special welcome to our new Grade 6 students, the HDSMS class of 2025. Our school has so much to offer and we are excited to have you join the great legacy of the Skyhawks family.
We are also excited to share that all our extra-curricular opportunities will be returning for students in the fall! We want to encourage all students to become involved in the many aspect of Skyhawks culture that make HDSMS such an amazing place to work and learn. There are so many ways to enrich your middle school experience within our community through academics, explorations, extra-curricular clubs, music, and athletics. So get involved!
Parents we invite you to become involved partners in all aspects of the school. To help you get the year started off right, below is some important information you will need about the first few days of school. Please take some time to read through it carefully.
Here is HDSMS Staff Christmas Video 2021!
We are very excited to roll out the new online Skyhawks Apparel Store to all staff, students and our Stafford community!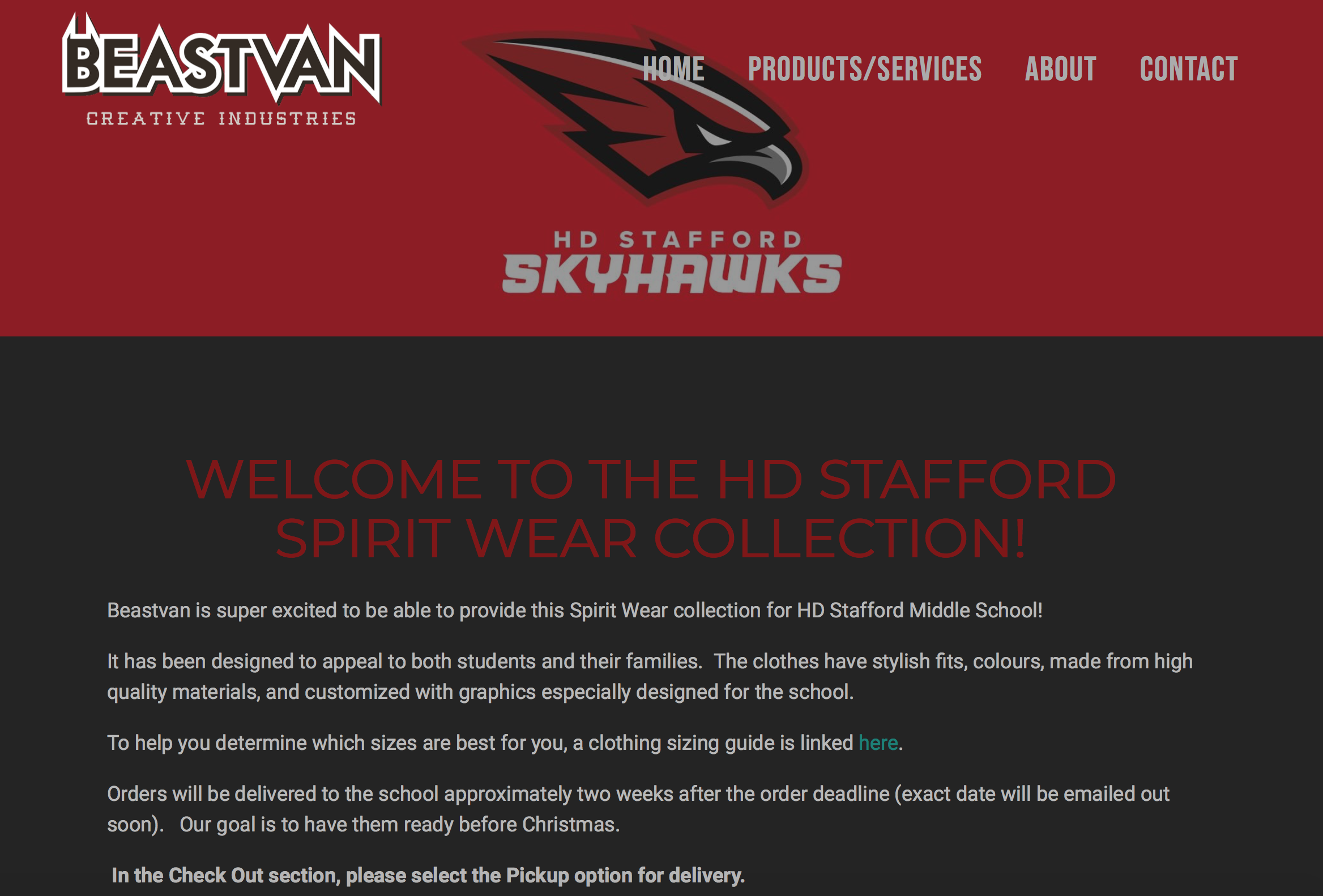 Orders will be processed at the end of each month, and delivered about 2 weeks later to HD Stafford for pickup:
All purchases made from now until November 30th will be delivered by approx. Dec. 15
Pickup @ HD Stafford: Be sure to set your delivery option to PICKUP, and your order will be shipped to the school for free pickup
Please be sure to provide information in your order that will help us ensure that you receive your items
Clothing samples will be arriving early next week for students/staff to see some of the pieces in person before ordering. We will have these at the school for a couple of weeks.
Here is this year's Remembrance Day Video.
FOR OUR NEWEST SKYHAWKS HERE IS A TASTE OF HDSMS LIFE!